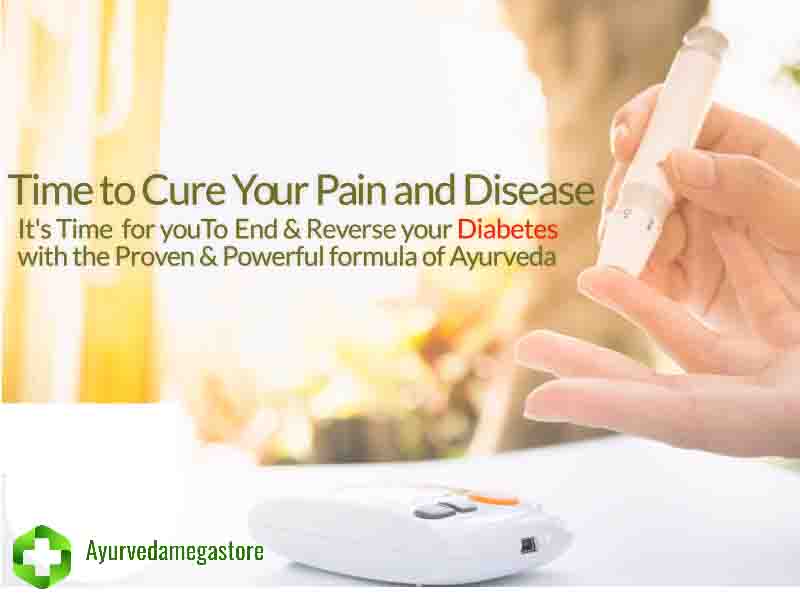 Created Date: 20 Jul
0 Comments
Diabetes
Busy and hectic lifestyle is badly affecting our health these days. Endless working hours has made our life so disordered that there is no time for eating food and doing physical activities. Such sedentary lifestyle causes various diseases in our body. Diabetes is one among those diseases which is directly results from our unhealthy lifestyle. Diabetes mellitus is emerged as an epidemic disease through out the world, especially in India. There are about more than 60 million Indians who are suffering from diabetes and a large proportion of population is prone to have diabetes. Diabetes sufferers are expected to increase more than 100 million by 2030 in India. Uncontrolled diabetes mellitus affects almost every system of our body and creates serious complications.
AYURVEDIC PERSPECTIVE
In ayurveda, 'Prameha' is a group of disorders that are related to urinary problems. It may appear as a hereditary disease (Sahaja vyadhi) or due to unhealthy lifestyle (Apthyanimittaja).The condition having similar sign and symptoms with Diabetes mellitus is mentioned as 'Madhumeha'. Madhumeha is one of the twenty types of prameha. It is called so because urine of a person suffering from madhumeha is like madhu (honey) and yellowish white in color. Madhumeha is a subdivision of vataja prameha which is difficult to cure or incurable in advanced stage. Vitiation of all three doshas (Vataja-Pittaja-Kaphaja) and involvement of ten dushyas (Meda-Mamsa-Kleda-Shukra-Shonita-Vasa-Majja-Lasika- Rasa- Oja) results in the development of Madhumeha.
MODERN PERSPECTIVE
Insulin is a hormone secreted from beta cells of pancreas. Its function is to regulate the utilization of glucose and fats in the body. Its deficiency or secretion in insufficient quantity results in increased blood glucose level. The condition of raised blood glucose level or hyperglycemia with absolute or relative deficiency of insulin is known as Diabetes mellitus (DM). There are two types of diabetes mellitus – type 1 and type 2. In type 1 DM, there is an absolute deficiency of insulin due to disorder of islet cells pancreas. Onset of type 1 DM occurs at early age (childhood or adolescent). These patients of DM need regular insulin externally. In DM type 2, there is a relative deficiency of insulin or resistance towards insulin in body. Type 2 DM usually occurs in middle aged or elderly persons. Family history of diabetes, obesity, lack of exercise and unhealthy life style are the main factors that lead to type 2 DM. 'Polyuria' (Increased frequency of urination), 'Polydipsia' (excessive thirst) and 'Polyphagia' (constant hunger) are the classical signs of diabetes mellitus. Poorly controlled diabetes for a long period of time, may affect all the vital organs of our body like eyes, kidney and causes serious complications.
CAUSES
· आस्यसुखं – Excessive intake of desired & liked food dishes especially sweet food items.
· स्वप्नसुखं – Excessive sleeping.
· दधिनी - Excessive intake of curd and other milk products.
· गुड वैकृतं – Excessive intake of sugar and other products prepared from sugarcane.
· दिवास्वप्न – Sleeping in daytime.
· अव्यायम – Lack of exercise and physical activity.
· प्रसक्तशीतस्निग्धमधुरमेद्यद्रवान्न पानं – Persistent intake of cold, unctuous, sweet and oily-fried food items and drinks.
· अति मद्यपान – Excessive alcohol intake.
SIGN & SYMPTOMS
· प्रभूताविल मूत्रता - Increases frequency and turbidity of urine.
· शिथिलऽगंता – Lassitude or weakness in body.
· करपाददाह – Burning sensation over palm and soles
· पिपसाधिक्य – Excessive thirst.
· आलस्य – Laziness
· माधुर्यतास्ये – Sweetish taste of mouth
· स्वेदो अंगगंध – Increased sweating and body odor.
· पांडु मूत्रवर्ण – Yellowish white coloration of urine.
· गलतालु शोष – Dryness in palate and throat.
DIAGNOSTIC METHODS
· Urine examination.
· Blood sugar level – Fasting and Post prandial.
· Glycosylated Haemoglobin level (HbA1c).
· Liver function test.
· Kidney function test.
· Lipid profile test.
LINE OF TREATMENT
Deepana, pachana, Shleshmahara or Aptarpana treatment is advised in madhumeha, especially in type 2 DM. Line of treatment of Madhumeha depends upon its severity and complications. Ayurvedic formulation having properties of lowering blood sugar levels along with modification in lifestyle are used in mild to moderately raised blood sugar levels. In prolonged cases of madhumeha, panchakarma procedures like Vamana (therapeutic emesis), Virechana (therapeutic purgation) and Basti (Medicated enema) therapy is done.
LIFESTYLE
· Take your meal on time.
· Take a balanced diet.
· Increase quantity of salad in meals.
· Do regular exercises and brisk walking.
· Regular monitoring of blood sugar level.
· Maintain optimum body weight.
· Avoid daytime sleeping.
· Avoid overeating and fasting.
· Avoid tea, coffee and other beverages.
· Avoid sweets and other items containing sweeteners.
· Avoid smoking and alcohol intake.
· Avoid mental stress and anxiety.
YOGA/ ASANA/ PRANAYAMA
· Halasana
· Matsyasana
· Ardhamatsyendrasana
· Mandukasana
· Katichakrasa
· Mayurasana
· Gomukhasana
· Paschimottasana
· Suptavajrasana
· Anuloma- Viloma pranayama
· Kapala-bhati pranayama