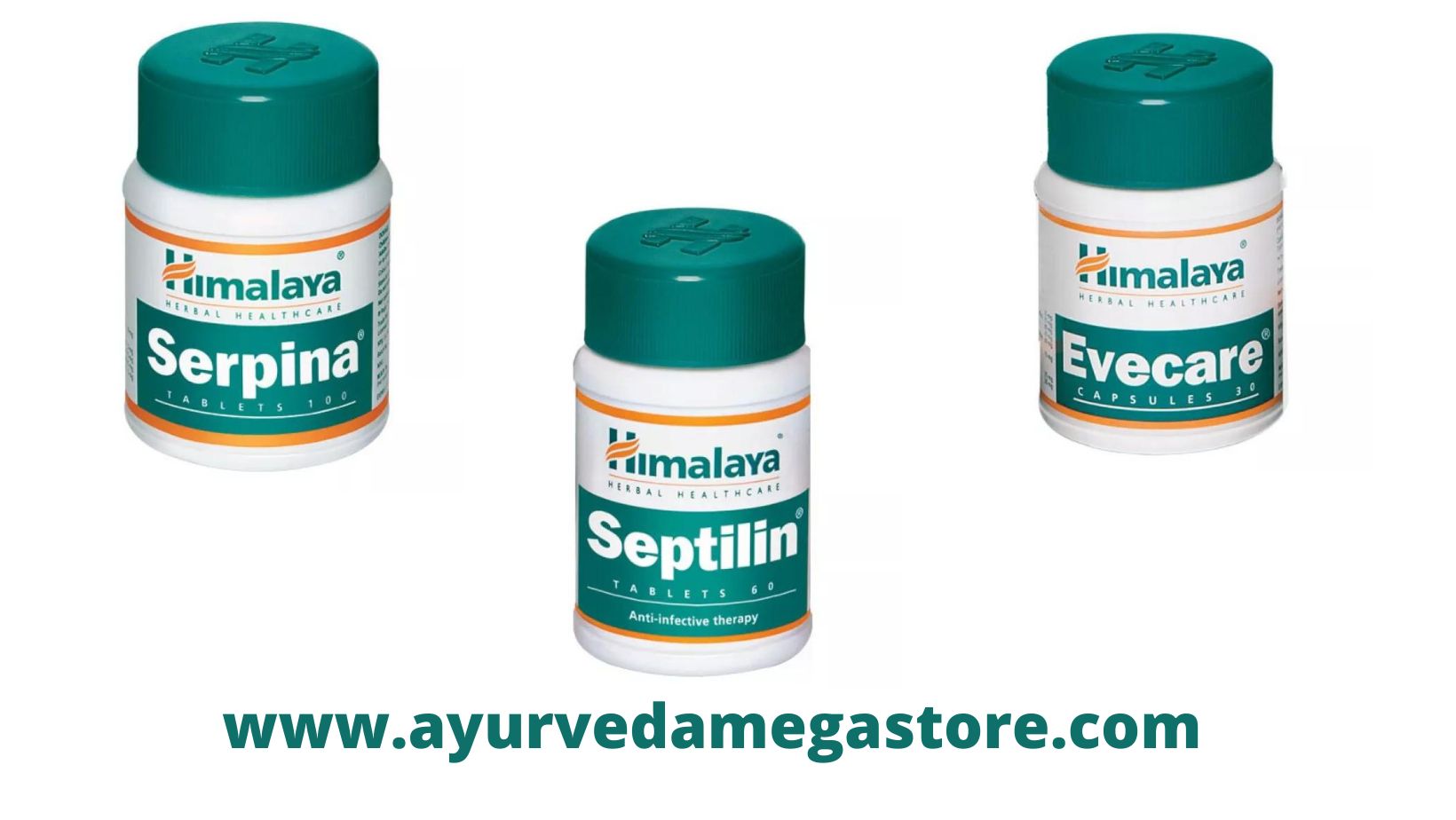 Created Date: 04 Sep
The Best Ayurveda Health Tablets of Himalaya
The basic principle of using Ayurvedic medicine is to prevent and treat the disease rather than maintain a balance between one's body, mind, and environment.
Himalaya Serpina Tablet
Himalaya Serpina Tablet is an over-the-counter Ayurvedic medicine, which is primarily used to treat high BP. Apart from this, Himalaya Serpina Tablet can also be used for many other problems. Serpina should not be used during pregnancy because of its high potency and teratogenicity which will cause congenital anomalies or birth defects also.
Sarpagandha is used in Ayurveda for high blood pressure, insomnia, and diseases that require suppression of the central nervous system such as dementia, anxiety, schizophrenia, etc.
How Serpina Tablet works
Sarpagandha alkaloids – Rauwolfia serpentina has a calming effect on the mind and the brain. Serpentine is a powerful medicinal plant that will have lowers blood pressure and has a depressant effect on the central nervous system.
Himalaya Evecare capsule
Himalaya Evecare Capsule is an ayurvedic and herbal capsule for females. The main constituents of the Himalaya Evecare Capsule are Ashoka, Shatavari, and Vasaka. The main property of Himalaya Evecare Capsule is used in the treatment of menstruation or periods, while having heavy bleeding, etc. The Himalaya Evecare Capsule will contain potent anti-inflammatory agents that will soothe the urinary tract and also helps to get improve the reproductive functions of women. It will also help to control the pain and heavy bleeding during periods. It will help to promote the reproductive fluid.
Himalaya Septilin Tablet
Himalaya Septilin Tablet is primarily used to treat upper respiratory tract infections, fever, and weakened immunity. Apart from this, a Himalaya Septilin Tablet can also be used for some other problems. Septilin is an Ayurvedic medicine that helps in the formation of the human body's defense mechanism. Its main ingredients are Tinospora Gulancha (Guduchi), Indian Bdellium (Guggulu), and Licorice (Yashtimadhu). These are available in the form of tablets and syrup, this medicine helps in curing sore throat, respiratory infections, skin infections, etc. All the ingredients that are present in Septilin make the body stronger, and more resistant to diseases like cough and cold, and help in faster recovery. The most important health benefits of Septilin. It will increase the production of white blood cells which help in fighting diseases. It also increases the level of hemoglobin.
Himalaya Ophthacare Eye Drop
Himalaya Ophthacare Eye Drop is primarily used for the treatment of eye infections, eye fatigue, and heaviness. Apart from this, Himalaya Ophthacare Eye Drop can also be used for some other problems. Using Ophthacare Eye Drops, there are a lot of benefits from consuming in the problem of blurring of the eyes, darkening of the eyes, cataracts, glaucoma, cataract, and burning in the eyes.
By using Himalaya Ophthalcare Eye Drops, we get rid of many types of problems related to the eyes. Its use provides a lot of benefits in burning eyes, pain in the eyes, itching in the eyes, cataract, glaucoma, and many other types of eye diseases. Put one or two drops of Himalaya Ophthacare Eye Drop in the affected eye. Make sure that the medicine is not contaminated and the tip of the drop should not touch the eye.