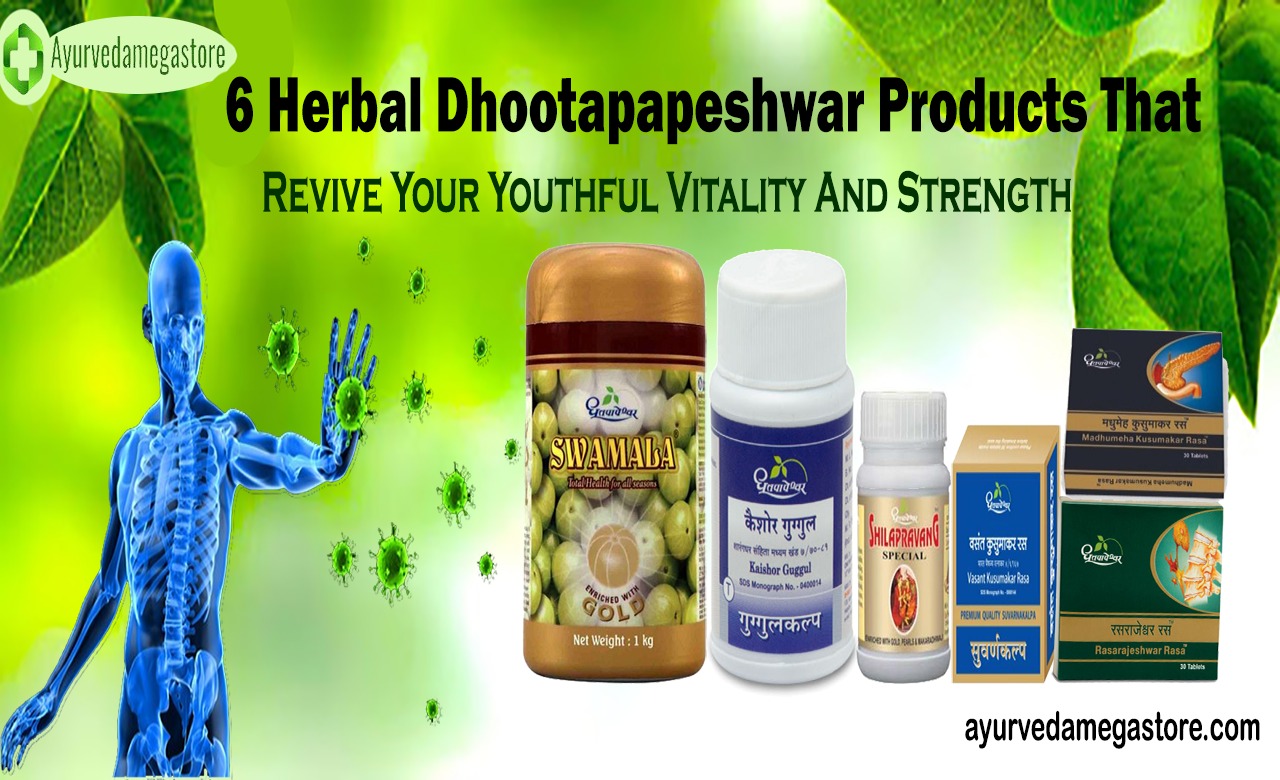 Created Date: 02 Sep
6 Herbal Dhootapapeshwar Products That Revive Your Youthful Vitality And Strength
The ancient method of curing illness is "Ayurveda". This is thus believed to be the purest medical aid till today. Due to the rising demand for herbal items and the opportunity to grab it on time, Dhootapapeshwar has been doing a fine job. Herbs are renowned for their medicinal advantages. Herbs have been used as traditional medicine for more than a thousand years and other illnesses have been used for herbal remedies. Dhootapapeshwar products also revolutionized the natural healing cycle with their medicinal goods in the ancient tradition of Ayurveda. A list of Dhootapapeshwar herbal products that benefit your health are listed here:

Swamala is made in pure cow ghee with the highest Amala's consistency. It includes herbal and woodland honey price ingredients. Swamala advocates nutrition for essential components of the body. Swamala also acts in both age classes as an outstanding revitalizing and immune builder. This is important to improve good safety. It helps raise the body's energy levels and increasing the immune function. It contains Chyavanprash, Suvarna Bhasma, Roupya Bhasma, Abhraka, Bhasma, Kantaloha Bhasma, Pravala Pishti, and Makardhwaj as active ingredients.

Health Benefits

● Helps to boost body health and immunity

● Support to counter rising pain and Helps with cough and cold recovery

2. Dhootapapeshwar Vasant Kusumakar Ras

Dhootapapeshwar Vasant Kusumakar includes the following active ingredients in its making as a medication of choice in Prameha, and Madhumea and its complexities, namely: Suvarna Bhasma, Roupya Bhasma, Vanga Bhasma, Naga Bhasma, Kantaloha Bhasma, Abhraka Bhasma, and Pravala Bhasma. Excellent Rasayan, Saptadhatuntoshak Yoga, and Vajikaran each in a certain amount. It also alleviates irritation of the nervine and good haematinic properties. Rasa Vasant Kusumakar is known to boost sexual ability because of its aphrodisiac properties.

Health Benefits

● The medication of choice and problems in Prameha, Madhumeha.

● The Rasayan, Saptadhatuposhak Yoga, and Vajikaran is outstanding. This also relieves all anxious and haematinic pain.

● Vasant Kusumakar Rasa's aphrodisiac qualities enhance sexual abilities.

3. Dhootapapeshwar Ras Rajeshar Ras

Rasarajeshwar Ras is a proprietary herbal Ayurvedic medicine made by Shree Dhootapapeshwar Limited, Bombay (India). Rasraj Ras is a herbal and mineral ingredient ayurvedic medicine in tablet form. It is used for the treatment of neuromuscular diseases. Also known as Rasaraj Ras. It works best for all kinds of nervous system disorders. This product is the combination of the Suvarnayukta Rasaraja Rasa, Shuddha Vishamushti, Ashwagandha, Rasasindoor, Guggul Processed in Arjunpatra Kwath q.s. Bala Kwath q.s., and Kakamachi Kwath q.s.

Health Benefits

● It is used to treat neurosis, hemiplegia, locked jaw, face paralysis, hearing defects, swelling, or similar diseases caused by Vata imbalance.

● It supports nerve and muscle strengthening.

● This is also prescribed by the doctors for the treatment of Rheumatoid arthritis and osteoarthritis.

4. Dhootapapeshwar Shilapravang Special

Shilapravang is a special Rasayana brand from Dhootapapeshwar Ltd. established on the market for over 60 years. It is a healthy blend of most strong herbs and Bhasmas called the supreme Rasayana, i.e. revitalizers namely Shuddha Shilajit 40 mg, Pravala Bhasma, Vanga Bhasma, Suvarnamakshik Bhasma, Guduchi Satva, Ashwagandha, Shatavari, etc.

Such a Rasayana remedy preserved the ideal fitness, according to Ayurved, stops premature aging, revitalizes body tissues, strengthens mental functioning, and revives youthful vitality and strength. Special Shilapravang is the perfect cure for young and old men who experience depression and fatigue from the rapid speed of life. Shilapravang Special regain their innate enjoyment and willingness to indulge in exhaustion, weariness, and vulnerability.

Health Benefits

● Useful in the case of male erectile dysfunction

● Helps boost stamina, vigor, and strength

● Helps cope with stress, tiredness, and anxiety

● Contributes to prevent premature ejaculation

5. Dhootapapeshwar Madhumeha Kusumakar Rasa


The key ingredients of Dhootapapeshwar Madhumeha Kusumakar Rasa are Mamejjaka Ghana 30 mg, Suvarnayukta Vasant Kusumakar Rasa 10 mg, Haridra 50 mg, Guduchi 50 mg, Amalaki 50 mg, Yashada Bhasma 5 mg Processed in Bilva Patra Swarasa, Shuddha Shilajatu 40 mg, and Asana Kwath q.s. All are 100% pure and herbal products with great health benefits. It is good for various complications of Madhumeh, such as nonhealing diabetic wounds, eye problems due to Diabetes, Indriya Shithilta, Breathlessness, etc.

Health Benefits

● Treat and Cure the symptoms and complications of diabetes successfully.

● Helps to efficiently suppress blood and urinary sugar thanks to Kapha and Meda Pachak.

● Often, removes the harmful effects of diabetes in the eyes.

● Shuddha Shilajit is a diabetic impotence rejuvenator and aphrodisiac lucrative.

6. Dhootapapeshwar Kaishore Guggul

Dhootapapeshwar Kaishor Guggul is a traditional ayurvedic treatment for joint and muscle relief discomfort. It is also a rejuvenator and detoxifier. The Kaishore Guggulu is a guggul ayurvedic formulation that contains, major ingredients like, Giloy, Amla, Bibhitaki, Haritaki, Shuddha Guggulu, Shunthi, Black pepper, Pipali, and Vidang, etc.

Health Benefits

● Used to treat the excess of uric acid,

● Treat gouty arthritis and lower its complications,

● Cure Inflammatory diseases, wounds, abdominal diseases, constipation, indigestion, carbuncles, etc.

● Improves digestion and removes toxins from the body.

● Corrects digestion and metabolism process.

In Ayurvedic Pharma Industry, Dhootapapeshwar is a popular brand. If you look at their performance levels, you will see what has always been successful for their progress. The company meets the consumer's single demand in a 'normal' way too. Many of the brand 's items are cults classics and cannot be blamed. The brand has built a stable foundation in the industry as well as in consumers ' lives.