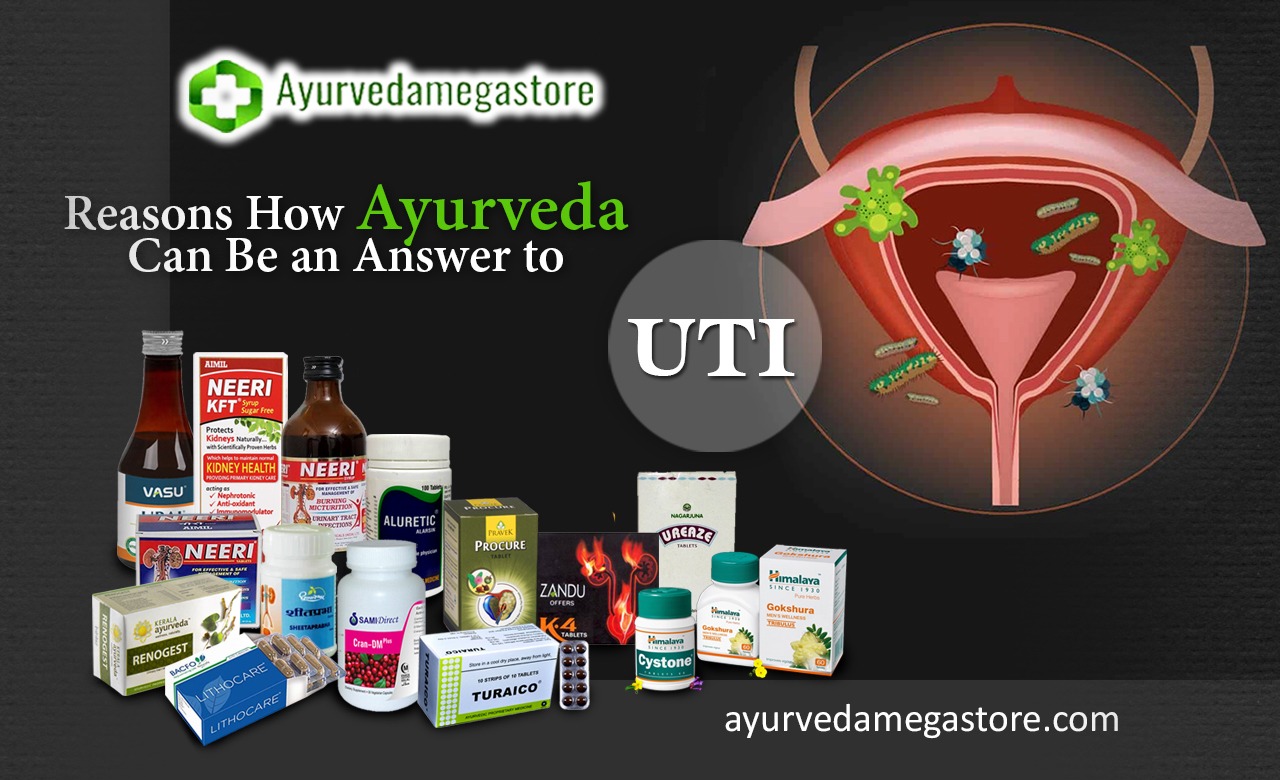 Created Date: 15 Mar
0 Comments
Reasons How Ayurveda Can Be an Answer to UTI
For women, the troubles seem to be never ending! Our complex structure of compounds, hormones, and loads of bacteria makes it a bit more daunting. And one of the troubles is popularly known as Urinary Tract Infection or UTI!
Yes, it is not limited to women, it can happen to men too. But, the probability of UTI happening to women is so much higher only because of their anatomy.
So, how about we look back into the ancient or traditional ways of treating and managing this trouble. Ayurveda has the answers for all the troubles that your body faces and it is one of them. Whereas, if you are one who seeks allopathic methods, you are bringing more damages to the body than good. And, do not get me into side effects those synthetically modified medicines have.
And, Ayurveda is made out of natural ingredients- all obtained from mother nature. Therefore, there shall be no side effects on the individual in taking the medicine.
Are you ready to learn more about it and ways to prevent and cure them? Let's explore.
What is UTI?
Infections that occur in the bladder or kidney are referred to as urinary tract infection (the tract or the path urine follows before micturition). The infections are bacterial caused by Enterococcus, Staphylococcus, Klebsiella, and Proteus. Besides this, there are certain sexually transmitted bacteria like Chlamydia trachomatis and Neisseria Gonorrhoeae that are responsible for urinary tract infections.
Women are more susceptible to catch on this infection. And, one of the obvious reasons is that the urethra of women is shorter compared to men. Thus, the bacteria, once contaminated, can travel to the bladder or even kidneys faster. Also, the urethral opening and the anal opening have a really small place. Thus, bacteria can easily contaminate the unwanted area, resulting in the developed infection.
About 90% of UTI cases are of WOMEN!!!
And, trust me, they are really uncomfortable.
Causes of Urinary Tract Infection
● Bacterias around the anus. Infections can lead those bacteria to the urethra and further kidneys.
● Sexual Intercourse is also a probable reason.
● Women who use the diaphragm to avoid pregnancy.
● Complications like menopause and spinal cord injury are linked to urinary tract infections.
● Immunosuppressed people are prone to infections.
● Unhygienic conditions like improper washing of hands can also increase the chances of infection.
● Hospitals can also be a cause of Urinary Tract Infection.
● Use of public restrooms that are not clean too often.
● Diabetes can also be a reason for UTI
● Bowel incontinence
● Kidney Stones
● Immobility of patients
● Reduce Fluid intake
Symptoms of Urinary Tract Infection
● Pelvic Discomfort
● Continuous Itching and Rashes
● Increased Frequency and Desire to Urinate
● Redness in the infected area
● Burning Sensation or Unproductive urination
● Tingling Sensation
● Urine color might be light pink or red
● Strong smell in urine
● Lethargy
● Vomiting
● In worst cases, as it reaches Kidneys- fever, chills
Urinary Tract Infection- According to Ayurveda!
As per Ayurveda, there are notably three energies in an individual- Vata, Pitta, and Kapha. All these three are responsible for maintaining the overall health of an individual. Urinary Tract Infections occur due to the imbalance of the pitta dosha. This imbalance and the resulting infection exhibit complications like inflammation in the urethra, bladder infection, and kidneys.
The increased intake of foods that are too spicy, salty, sour, bitter, oily, and fried, along with a great intake of beverages like tea, coffee, or alcohol, brings an imbalance to the Pitta (Fire) in the body. Aggregating this energy leads to the development of Urinary Tract Infections. Moreover, the sun, hot weather, or even an increase in physical activity can aggravate the infection.
Why Choose Ayurveda?
Not Just Medicines
Ayurvedic Medicines work on the entire body regardless of the only condition you are trying to treat. Therefore, they do not only act as a medicine but also become a part of diet and lifestyle. They complement the individuals' life with their effects as it works as a benefitting mode of treatment. So, Ayurveda also cares about your lifestyle and diet.
Works on the Root Cause
The first and the most important thing is that the medicines should work on the root cause and not just eliminate the trouble faced. Therefore, Ayurveda is chosen by most people time and again only because it heals the person from within. It not only cures the person but also makes him or her potent to prevent it in the future too.
Reduces Health Risks
With most of the medicines we take now, we end up developing other additional troubles- some are even uncalled for! And, as Ayurveda is all with the natural ingredients derived from the mother earth, it possesses no to least side effects. Besides dealing with the ailment effectively, it also reduces the number of other additional health risks.
Urinary Tract Infection (UTI)? Live Healthy with Ayurveda!!
Non- Recurring
Are you experiencing UTI for the first time? Herbal medicines or Ayurvedic medicines help in treating and managing the doshas and help bring an equilibrium in them for a healthy urinary tract. It is best and advised to consult with the physician to maintain hygiene and even prevent infection.
Recurring
Urinary Tract Infections can also be recurring due to some factors that are not addressed on time. The imbalanced doshas can be treated and take on the causative factors. The medicines use them for purification, balance the doshas, and the herbs rejuvenate the entire body.
Ayurvedic Medicines for Treating UTI
Ayurveda is an answer to UTI. And, you can get the best and almost all the ayurvedic medicines at Ayurveda Megastore. They house a number of brands and medicines that definitely are potent to treat a multitude of ailments in the individual. The medicines are absolutely genuine, 100% authentic and as quality, as marked in the boxes.
They are effective only because of the natural origin ingredients in the composition of each product of Ayurveda. Several herbs present in Ayurvedic medicines help in curing urinary tract infections, and many other associated health-related risks that can make the lifestyle discomforting. Let us learn about some of them!
● Aimil Neeri KFT Syrup Sugar Free
● Aimil Neeri Syrup
● Aimil Neeri Tablets
● Alarsin Aluretic Tablet
● Bacfo Lithocare Capsules
● Dhootapapeshwar Sheetaprabha Tablet
● Kerala Ayurveda Renogest Tablet
● Pravek Procure Tablet
● Sami Direct Cran Dm Plus
● Vasu Ural Syrup
● Vyas Vrukakdoshantak Vati
● Zandu K4 Tablets
● Nagarjun (kerela) Ureaze Tablet
● J & J Dechane Turaico Diuretic And Urinary Antiseptic Tablets
● Himalaya Gokshura Tablets
● Himalaya Cystone Tablets
When To Consult A Doctor for UTI?
Even though Urinary Tract Infection (UTI) can be really cumbersome and a lot of discomfort for the ones suffering! Therefore, you are always advised to consult your doctor to at least talk to them and learn about the reasons for urinary tract infections. It is essential to control them at the initial stage to avoid severe cases affecting the kidneys.
And, if you are experiencing a recurring UTI. you are taking all the medicines you can and even visited doctors a number of times. It is time to address it more aggressively and get rid of the infection altogether. So, make sure to visit your doctor if the problem persists for more than 72 hours or 3 days!