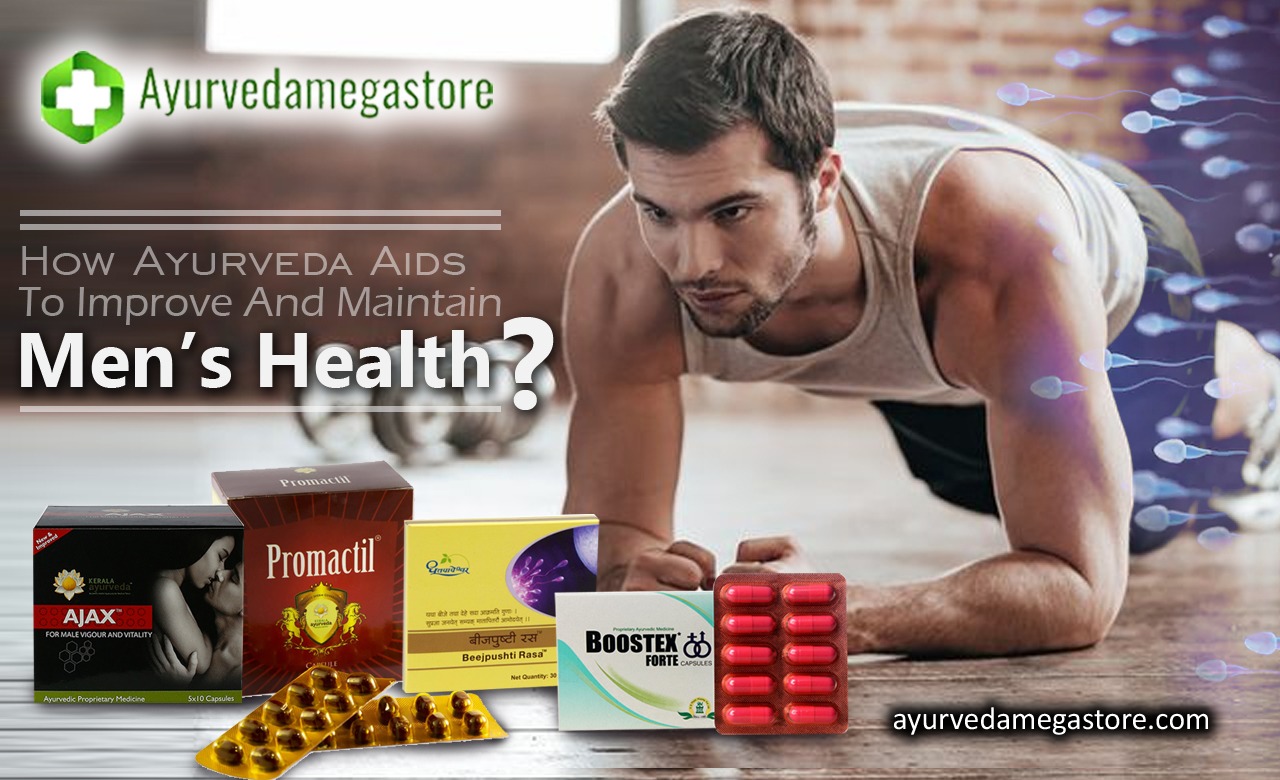 Created Date: 14 Apr
How Ayurveda Aids To Improve And Maintain Men's Health?
The ancient Ayurvedic medicine system has a holistic nature. Ayurveda focuses on the improvement of the total health of the person at the same time curing the disorders. Especially men today are subjected to a lot of stress. From juggling everyday work pressures to managing family responsibilities, men have to handle everything. Stress can affect a lot of body functions in men, including reduced immunity and sexual issues. Often hormonal imbalance can also affect sex life. The key to overcoming these everyday mental stress issues is to have a healthy body and a sound mind. To keep your body healthy Ayurveda offers best practices like a balanced diet, yoga, and Ayurvedic Rasayanas.
Often men face issues with vitality and sexual vigor due to excessive stress. Certain changes in lifestyle can also result in male sexual dysfunction. This can be classified as erectile dysfunction, decreased libido, and ejaculation issues or premature ejaculation. Prostate enlargement and related issues, cardiovascular diseases as well as sexual dysfunction can be cured with Ayurvedic methods combined with the right diet and lifestyle changes. With the right Ayurvedic nourishment and care, the male health issues can be bought back on track. Here is a list of Ayurvedic medicines that will help cure different health issues related to men at the same time increase their immunity.
Dhootapapeshwar Heeraka Bhasma
Heeraka Bhamsa is also known as Vajra Bhasma, Diamond Bhasma, or even Hira Bhasma. It is composed of the precious Heeraka gemstone and mainly used to cure diseases like a tumor, tuberculosis, angina pectoris, and cancer. It also acts as an optimum solution to strengthen the immune system. It also helps to reduce Dhatushaithilya and toning the heart muscles to treat heart disorders. Heeraka Bhasma plays a vital role in controlling all sorts of Vatavyadhi i.e. Vata disorders, Pitta Dosha, and Kapha Dosha. The unique solution also treats obesity, vertigo, impotency, and anemia.
Dhootapapeshwar Beejpushti Rasa
The Beejpushti Rasa is an effective Kalpa that helps improve Sarvadaihik Shukra and Sthanik. This unique combination is composed of quality ingredients like Suvarna Bhasma, Shatavari, Salampanja, etc. These tablets help in Shukradhatu Vruddhi and Poshan. This results in the improved functioning of the Shukranu.
SG Phtyopharma Boostex Forte Capsule
SG Phtyopharma Boostex Forte Capsule enhances sexual desire as well as supports performance issues. This Ayurvedic solution offers solutions over male fertility problems by supporting the dhatus (tissue) formation and improvement of the ojas. Along with sexual rejuvenation, it also regulates body functions like digestion and blood circulation. The capsules are composed of Jaiphal, Kavach beej, Ashwagandha, and Bhuikohla Kuchala. All these elements have aphrodisiac action and tonics that help with nervous exhaustion.
Kerala Ayurveda Ajax Capsules are just the right answer to restore your lost Vigor. The combination of herbs like Kokilaksha, Atmagupta, Gokshura, and Ashwagandha acts as hormone enhancers as well as help arouse sexual desires. Along with the improvement in sperm health, it also limits premature ejaculation. A total solution to male sexual issues, it also boosts the libido and acts as a male aphrodisiac.
Kerala Ayurveda Promactil
Kerala Ayurveda Promactil is an Ayurvedic Rasayanam that provides a total solution to different male health issues. It is a combination of Vaajeekarana and Rasayana Herbs like Ashwagandha, Atmagupta, Guduchi, Draksha, and Kokilaksh. These capsules act as a perfect formula to improve fertility, build stamina, and strength. It also helps improve sperm production and other adjoining issues. Along with relaxing the body it also reduces stress and maintains hormonal balance. They also improve immunity and improve Ojas and overall health.