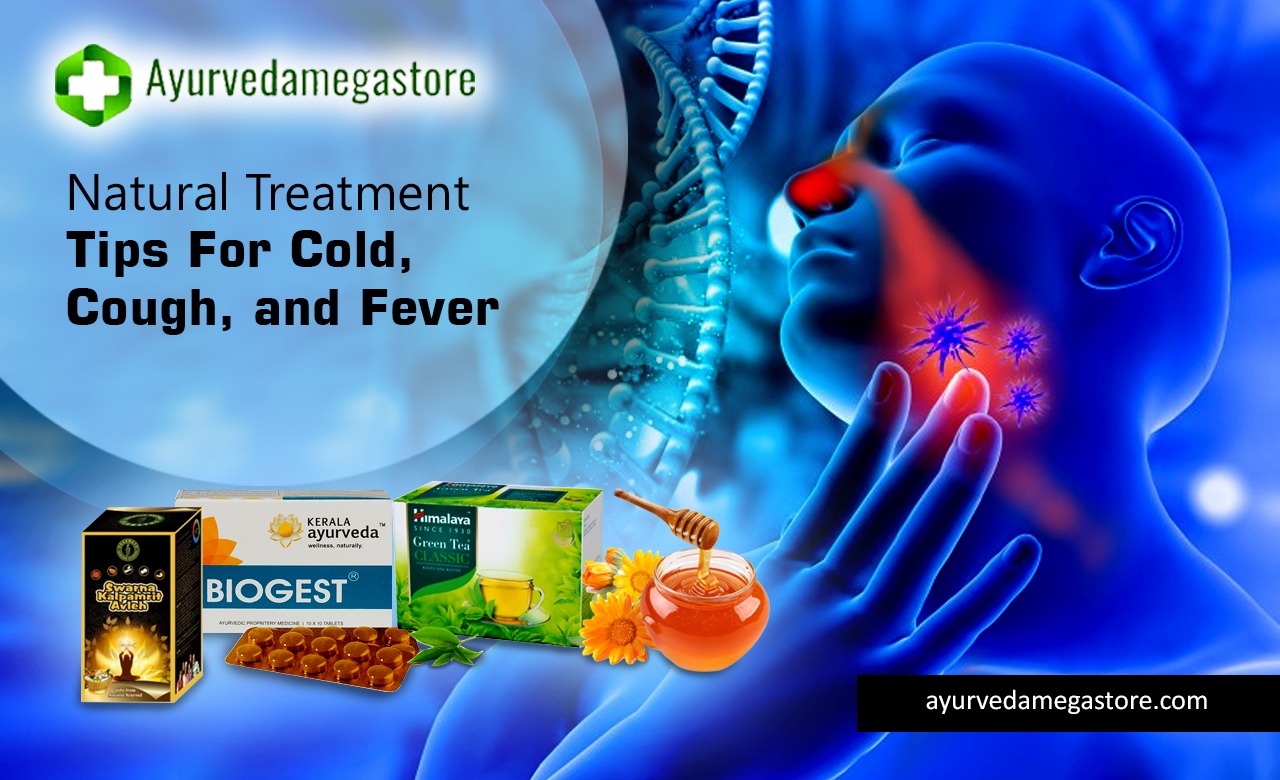 Created Date: 14 Mar
Natural Treatment Tips For Cold, Cough, and Fever
Nowadays, cold, cough, and fever are common. At some point, every individual has to suffer from cold and flu. You might be familiar with Coronavirus. It is important to take care of your health so that you can prevent yourself from such types of harmful viruses.

According to a medical study and research, it is found that an adult is sick with common symptoms like cough, sore throat, mild fever three or four times each year. These common diseases are caused by a harmful virus and we cannot stop the virus.


But you can overcome the symptoms of cold and flu. Most of the people like to use natural remedies for the treatment, but some question arises in the mind of people is that which natural remedies are effective, which remedies will work, and which are non-effective.


You cannot find a permanent cure for a cold, but yes, you can find some effective natural remedies that can help you in reducing the symptoms of fever, cold, cough, and flu. Let's take a look at the effective natural treatment tips for cold and cough.





Gargling

It is one of the ancient natural remedies that can ease a sore throat. Even in the old-school times, our elders used to suggest gargling for the treatment of sore throat. You can do gargling two or three times a day. You just need to take one glass of boiled water and add one teaspoon of salt in it. Mixed it properly.

You can also choose the second option- gargling with one glass of water mixed with a teaspoon of honey and lemon.


Steam

Steam is another best natural treatment for cold and cough. It can decrease nasal congestion and sinus pressure. Take a steamer, fill it with hot water, place a towel over your head, and breathe in the steam. You can also add Vicks in the water, it will give more benefit. Most of the people add eucalyptus- an essential oil in the water. Steam soothes the tissues of the nose and gives relaxation to the mind.

Take Kerala Ayurveda Biogest Tablet

Kerala Ayurveda Biogest Tablet is an ayurvedic tablet that enhances the immunity of the body to fight against infections like cold, cough, and fever. This medicine has Anti-microbial and Anti-inflammatory Properties that helps in treating bronchitis, throat infection, cold, allergic cough, etc. Buy Kerala Ayurveda Biogest Tablet online.

Honey

Honey is a natural ayurvedic remedy that helps in decreasing nighttime coughs. You can also add a small amount of Shitopladi in the honey. Take the mixture of honey and shitopladi three to four times a day. Use Dabur Honey, an ayurvedic product.

Drink Hot Liquids

According to the medical study, it is found that hot liquids are beneficial for the person who has a cold and cough. Hot liquids help in reducing the symptoms of colds, relieving nasal congestion, prevent dehydration, and also soothes inflamed membranes around your nose and throat. If you are suffering from cold, then you can't sleep at night. So, take a hot liquid like tea, herbal green tea.

You can take Himalaya herbal green tea. This green tea contains antioxidant properties which help in increasing the body's immunity. It gives relaxation to the body and gives mental peace as well. But it is important to buy original herbal green tea so that you can avail of the benefits of this hot tea. Buy Herbal Green Tea online from India's Biggest Online Ayurveda Store.

Use a Salve Under Your Nose

If you want to open your breathing passages, then use a salve under your nose. Menthol, eucalyptus, and camphor all have gentle desensitizing ingredients that may help calm the torment of a nose rubbed raw. In any case, just put it outwardly, under your nose.




Avoid Outside Visit


If you suffering from cold, cough, mild fever, and flu, then stop going outside. Outside visiting is not good for you at this time. Respiratory diseases, lung diseases, cold, fever, body pain all these diseases are caused by viruses that are present in the air. Today the airborne disease is increasing day by day because of polluted air.

Various large viruses, bacteria, allergens, microparticles are present in the air and if we breathe in the air these bacterias enter into our body through air. Today, you can see a big virus Coronavirus, one of the harmful viruses. So, avoid going outside and take more rest. If you have to go outside for some urgent work, then wear a mask on your face and carry a nasal spray with you.

Take Sharmayu Swarna Kalpamrit Avaleh

Buy Sharmayu Swarna Kalpamrit Avaleh now. It is one of the natural and ayurvedic medicines which is used to treat cold, cough, and fever. It also promotes the natural ability of your body to produce white blood cells. If you are looking for the original and natural Sharmayu Swarna Kalpamrit Avaleh, then visit Ayurveda Megastore. You will get high-quality and original ayurvedic products at the best price.

Blow Your Nose Often

If you have a cold, then it is important to blow your nose regularly. Do not blow your nose with high pressure, it will cause earache.

Doctors suggest antibiotics for the treatment of fever because feer is caused by a bacterial infection. Here is the list of medications for the treatment of fever- acetaminophen (Tylenol), ibuprofen (Advil, Motrin), and naproxen (Aleve). Aspirin is the ideal medication for children and teens.





Take Vitamin C & Vitamin D

Whether you are suffering from cold or other diseases, it is important to take all nutrients in your food so that your body can fight with the particular disease easily.

According to veteran doctors and physicians, vitamin C and vitamin D are effective preventative treatments for cold, cough and fever. These vitamins give energy to the body. You can take broccoli, red bell peppers, kale, oranges, and vitamin C supplement, Vitamin D supplement, and Milk. Take proper vitamins and minerals in your diet so that you can stay healthy always.