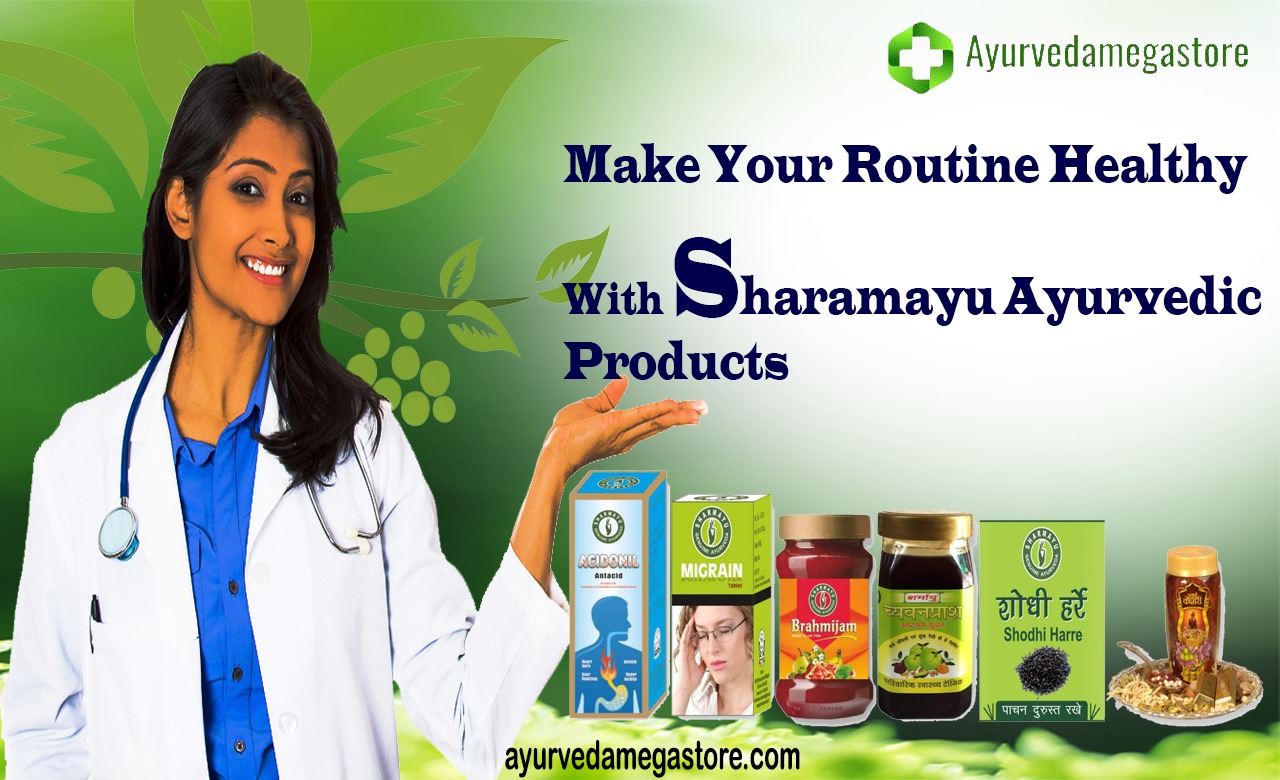 Created Date: 11 Sep
0 Comments
Make Your Routine Healthy With Sharmayu Ayurvedic Products
Poor diet and bad habits can even impair your sustainability. You can improve your capacity to maintain your sink energy and enhance the physical or mental activity by consuming the correct foods and ingredients. Sharmayu Ayurveda based on the Baidhyanath group has been producing supreme quality Ayurvedic products or medicines that revitalize your strength and immunity and help you to restore your normal health. So, now without wasting any time we introduce you to Sharamayu Ayurvedic products which not only enhance your immunity but also keep you fit and healthy in all ways.
1. Sharmayu Chywanprash
Sarmayu Chyawanprash is a nutritive jam that Ayurveda strongly suggests for a broad range of health benefits. Sharmayu Chyawanprash was allegedly invented for the people of all age groups to get overall health benefits. It is best for boosting immunity and stamina, promoting lung power, enhancing youthfulness, increasing healthy muscle mass and tone of the body, Body cleansing and detoxification, mitigating symptoms related to Tuberculosis, Lower appetite, Cough and Cold, improving the digestion, etc. Sharmayu Chyawanprash is a herbal carrier that functions to boost the health of potent aphrodisiacs. A blend of herbs: amla, ghee, sesame oil, and honey is a Chyawanprash recipe. These all-natural ingredients are used as a catalytic agent to move herbs deep into the cells while honey helps neutralize other core constituents and preserves them.
2. Sharmayu Brahmi Jam
Sharmayu Brahmi Jam is not just great in taste but also healthy. The super healthy and delicious formula of Brahmi Jam is consists of Brahmi root, Draksha, Manjistha, Shankhapushpi, Dhatri, Madhu, Sodium Benzoate, etc all herbs extracts. Each one has its own contribution to promoting your health and well being. Sharmayu Brahmi Jam is best used as a memory booster, anti-oxi-dent, and blood count increasing element, digestion improvement, Blood circulation, and blood purification.
3. Sharmayu Shodhit Harre
Sharmayu Shodhit Harre is a powerful digestive that makes you eat all you want. This is one of several options to select from your everyday routine in the Sharmayu Natural Health Care and Digestive Products collection. A Weak Stomach and a Defective Immune Tract is the root cause of a large number of diseases. Sharmayu Shodhit Harre is the best solution to treat your disturbed stomach and improve your digestion.
4. Sharmayu Swarn Keshri
Sharmayu Swarn Keshri is the Ayurvedic & Organic deficiency and insufficiency tonic. This allows even to cope with symptoms with earlier aging, wrinkles, lack of weight, and dark circles. The tonic is available in 500 g and 1 kg packaging. Sharmayu Swarn Keshri promotes your medical status and youthfulness.
Sharmayu Acidonil Syrup is durable protection from acidity and gas related risks. Efficient during a feeling of pain and irritation induced by after meal. The tonic is best in lower digestive conditions and heals various stomach discomforts as it encourages good pH rates, stimulates digestive enzymes, improves the digestion cycle, helps the inner membranes to be cool and relaxes, encourages strong hunger, promotes organic strong calcium supply, provides relief in feelings like fire or abdominal pain, and other conditions like mouth sourness, heartburn, and dyspepsia.
Hopefully, if you include the above mentioned Sharamayu Ayurvedic medicines in your routines, then you will be healthy, strong, and agile. Although Ayurvedic medicines do not have any specific side effects, however, you should consult your doctor before using them. By consuming the right amount of the Sharmayu products, at the right time, you will definitely be able to get the health you desire.