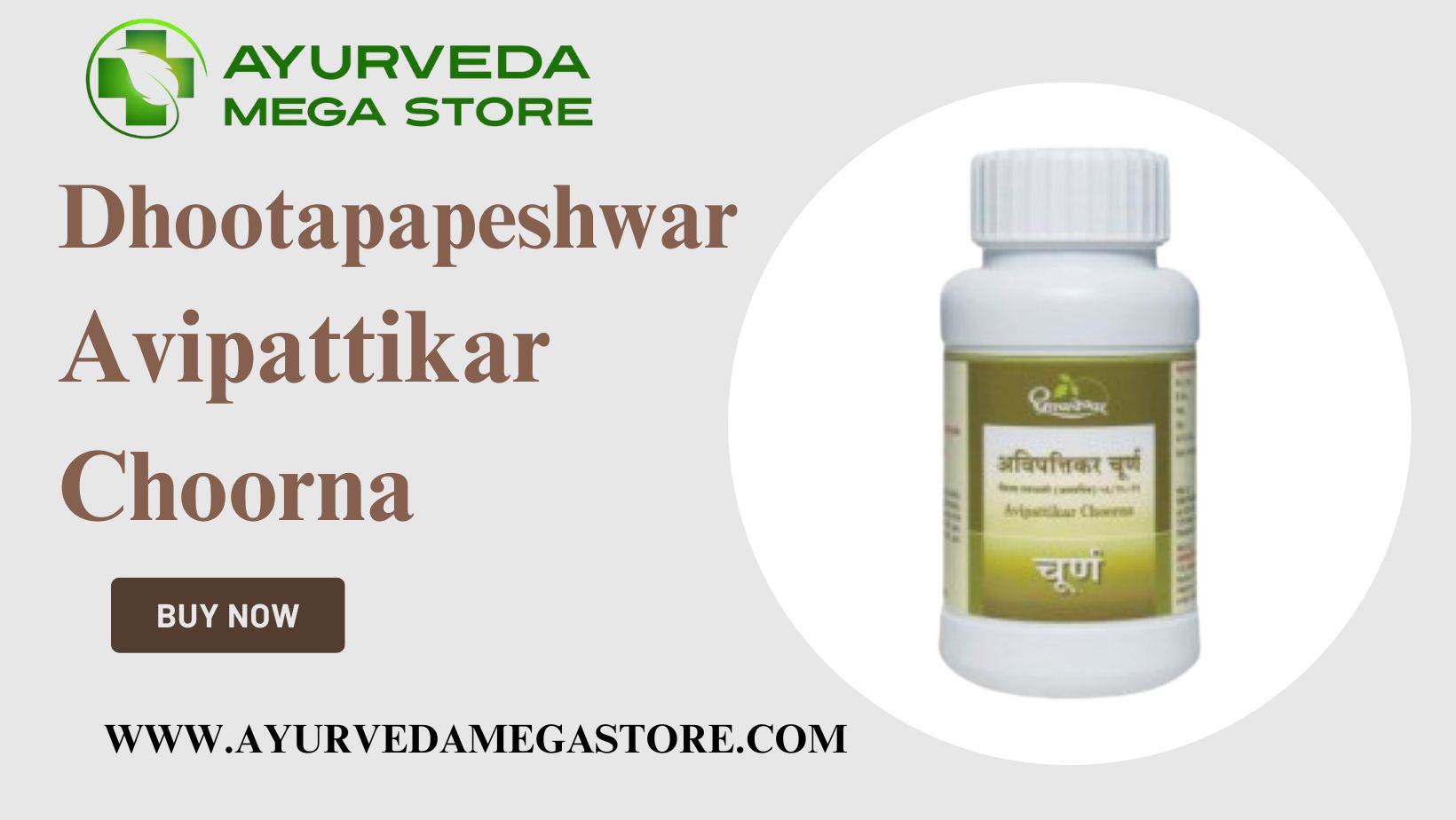 Created Date: 20 May
Dhootapapeshwar Avipattikar Choorna: The Ultimate Ayurvedic Solution for Digestive Issues
Do you frequently experience digestive issues such as bloating, acidity, or indigestion? Are you tired of relying on temporary solutions that only provide short-term relief? If so, it's time to turn towards Ayurveda and discover the power of Dhootapapeshwar Avipattikar Choorna. This natural herbal remedy has been used for centuries in traditional Indian medicine to alleviate a variety of digestive ailments. In this blog post, we'll explore what exactly Dhootapapeshwar Avipattikar Choorna is, how it works its magic on your gut health, and why it should be an essential component of your daily wellness routine!
What is Dhootapapeshwar Avipattikar Choorna?
Dhootapapeshwar Avipattikar Choorna is a traditional Ayurvedic formulation that has been used for centuries to combat digestive issues. It is made from all-natural ingredients, including various herbs and spices like black pepper, ginger, long pepper, cardamom, and cinnamon.

This herbal powder works by balancing the three doshas in our body - Vata, Pitta and Kapha - which are responsible for regulating our bodily functions. When these doshas are out of balance due to poor dietary choices or stress factors it can lead to several digestive problems such as acidity, indigestion or bloating.

The choorna helps improve digestion by increasing the secretion of digestive enzymes in the stomach while also reducing inflammation in the gut lining. Additionally, Dhootapapeshwar Avipattikar Choorna promotes regular bowel movements and relieves constipation.

It's important to note that this herbal remedy should be taken under guidance from an ayurvedic practitioner or healthcare professional as it may not be suitable for everyone depending on their medical history. However if you're looking for a natural solution to your digestive issues then Dhootapapeshwar Avipattikar Choorna could be worth considering!
The Different Types of Digestive Issues
Digestive issues are becoming increasingly common among people these days. The digestive system is a complex network that involves various organs such as the stomach, liver, pancreas, and intestines. When any of these organs fail to function properly, it can lead to several digestive problems.

One of the most common digestive issues is acid reflux or heartburn. It occurs when the acid in your stomach flows back into your esophagus causing discomfort and pain.

Another common issue is bloating which happens due to excess gas build-up in your abdomen making you feel full and uncomfortable.

Constipation is another prevalent problem where bowel movements become infrequent and difficult resulting in hard stools.

Diarrhea, on the other hand, involves loose watery stools which can cause dehydration if not treated immediately.

Other digestive disorders include irritable bowel syndrome (IBS), inflammatory bowel disease (IBD), ulcerative colitis, Crohn's disease among others.

It's essential to identify the type of digestive issue one has before seeking treatment. Ayurvedic remedies like Dhootapapeshwar Avipattikar Choorna can be effective for alleviating symptoms caused by different types of digestion problems without causing any side effects.
The Ayurvedic Solution for Digestive Issues
Ayurveda, the ancient Indian medicine system, offers a holistic approach to healing with its natural remedies. Digestive issues are common and can affect anyone at any age. However, Ayurvedic remedies have been used for centuries to alleviate digestive problems.

The root cause of most digestive issues is an imbalance in the digestive fire or Agni. This disturbance results in indigestion, bloating, constipation or diarrhea. Ayurveda addresses this issue by focusing on balancing the Agni with herbs and spices that help digest food and eliminate toxins from the body.

Dhootapapeshwar Avipattikar Choorna is one such ayurvedic remedy that has been used for centuries to relieve various digestive issues like acidity, heartburn, indigestion and constipation. It contains a combination of herbs like ginger, black pepper, long pepper among others which stimulate digestion and enhance nutrient absorption.

Unlike modern medicines that provide temporary relief but have side effects on prolonged use; Ayurvedic remedies work effectively without causing any harm as they are made from natural ingredients found in nature.

Choosing an Ayurvedic solution for your digestive troubles may prove more beneficial than opting for modern medications. Dhootapapeshwar Avipattikar Choorna is a tried-and-tested remedy backed by centuries of research that promotes gut health naturally without any adverse effects on overall well-being.
Dhootapapeshwar Avipattikar Choorna Benefits
Dhootapapeshwar Avipattikar Choorna is an Ayurvedic formulation that has been used for ages to treat digestive issues. This herbal powder contains a blend of natural ingredients that help in balancing the Pitta dosha in the body, which is responsible for regulating digestion.

One of the primary benefits of Dhootapapeshwar Avipattikar Choorna is its ability to relieve acidity and heartburn. The unique combination of herbs helps in reducing inflammation and soothing the stomach lining, thereby preventing acid reflux.

Another significant benefit of this Ayurvedic medicine is its ability to improve digestion. It enhances the secretion of digestive juices, which aids in breaking down food particles efficiently. Consequently, it prevents bloating, constipation and other related symptoms.

In addition to improving digestion, Dhootapapeshwar Avipattikar Choorna also helps in detoxifying the body by eliminating harmful toxins from it. This results in improved overall health and well-being.

Moreover, regular consumption of this herbal powder can boost immunity levels as well. The potent mix of herbs present strengthens the immune system by fighting off infections caused due to poor dietary habits or lifestyle choices.

Dhootapapeshwar Avipattikar Choorna can help you achieve optimal digestive health while providing additional benefits such as detoxification and immune-boosting properties.
How to Use Dhootapapeshwar Avipattikar Choorna
Using Dhootapapeshwar Avipattikar Choorna is quite simple, but it's essential to use the correct dosage and method for maximum effectiveness. First, consult with a qualified Ayurvedic practitioner or your doctor before taking any herbal supplements.

The recommended dosage of Dhootapapeshwar Avipattikar Choorna is 1-2 teaspoons twice daily after meals with warm water or milk. You can also mix it with honey if you prefer a sweeter taste.

It's important to remember that this product should not be taken on an empty stomach or in large quantities as it may cause discomfort. Also, avoid consuming alcohol and spicy foods while taking this supplement.

For those who have trouble swallowing pills, the choorna form of the herb makes it easy to consume by simply mixing it into food or drinks. Just ensure that you stir well to dissolve any lumps before consuming.

Incorporating Dhootapapeshwar Avipattikar Choorna into your routine can provide relief from digestive issues when used correctly and consistently over time.
Dhootapapeshwar Avipattikar Choorna Side Effects
While Dhootapapeshwar Avipattikar Choorna is a well-known Ayurvedic remedy for digestive issues, it's important to be aware of the potential side effects that may occur with its use. One common side effect is an increase in body heat, which can lead to excessive sweating and dehydration.

Another possible side effect is dryness in the mouth and throat, which can cause discomfort and difficulty swallowing. Additionally, some individuals may experience nausea or vomiting after taking this choorna.

It's also worth noting that long-term use of Dhootapapeshwar Avipattikar Choorna may lead to mineral deficiencies due to its diuretic properties. As such, it's important to consult with a healthcare professional before using this product on a regular basis.

If you experience any adverse reactions while taking Dhootapapeshwar Avipattikar Choorna, stop using it immediately and seek medical attention if necessary. While this Ayurvedic remedy has many benefits for digestion and overall health, it's crucial to be aware of the potential side effects associated with its use.
Conclusion
Digestive issues can be a real struggle for anyone. But the ancient Ayurvedic medicine offers an amazing solution to these problems with Dhootapapeshwar Avipattikar Choorna.

This traditional remedy is made from natural ingredients that have been used for thousands of years to relieve digestive discomforts and improve overall gastrointestinal health. With its numerous benefits, this choorna has become one of the most sought after remedies in Ayurveda.

However, it is always advisable to consult a physician before starting any new supplement or medication, even if it is herbal. So if you are facing any digestive issues or looking for ways to improve your gut health naturally, give Dhootapapeshwar Avipattikar Choorna a try and experience the power of Ayurveda!