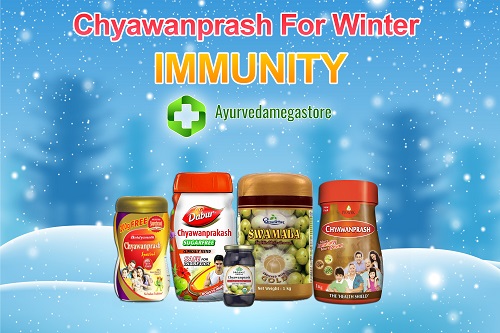 Created Date: 04 Jan
0 Comments
Chyawanprash For Winter Immunity: Enjoy The Season With The Goodness Of Herbs
The season of winter is all about fun and joyful festivals. Considering all the occasions from diverse cultures, in winter months, the chances of attracting diseases are high. It triggers pain, inflammations, and other health issues arising due to cold. Chyawanprash, a unique combination of Ayurveda medicine, has an immense benefit for all sorts of health problems. It strengthens the immunity to fight against joint pains, sensitivity to cold, episodes of fever, respiratory issues, and swelling in feet and fingers.
What is Chyawanprash?
Chyawanprash is a herbal formulation that is better known as a health supplement. In terms of taste, Chyawanprash is sweet, sour, and spicy. It has a brown-black sticky appearance similar to fruit jam. A formulation of 28 notable herbs together makes it like an herbal jam. It can be taken orally by the adults in the morning. For children, one teaspoon can be mixed in water and consumed every day.


Ingredients to boost your immunity with Chyawanprash:
The ayurvedic formation Chyawanprash is a combination of using numerous herbs for nourishing and healthy life. The formulation is rich and has unique herbs, that are processed to make an herbal jam. It includes:
1. Brahmi
2. Fresh Green Amla
3. Bhumi Amla
4. Dashmoola
5. ChotiElaichi
6. Tej Patra
7. Lavang
8. Jivanti
9. Rishbak
10. Vidarikand
11. Vasaka
12. Pippali
13. Sharkara
14. Nagkesar
15. Ashwagandha
16. Ghrit
17. Jeerak
18. Bala
19. Dalchini
20. Kesar
21. Shatavari
22. Nagarmotha
23. Punarnava
24. Chandan
25. Aqar
26. Akarkara
27. Karchur
28. Rajat Bhasma
These herbs are necessary for the preparation of Chyawanprash. The usefulness of herbs enhances immunity, brain development, physical strength, Vitamin C, memory boost, and fights from anti-bacterial attacks.
Benefits of Chyawanprash:
It is a rich source of healthy herbal jam. It enhances the functioning of various body parts. Regularly having one spoon in the morning helps to balance your body.
The tridosha or body energies are balanced. Your system of digestion is smooth with regular excrete movement out of your body. Chyawanprash improves metabolic health, boosts energy, and gets the toxins accumulated, to get it out of your body. It is good to nourish the mucous membranes and helps respiratory passage. Especially in winter, respiratory issues are commonly seen, among all.
It prevents seasonal infection:
When winter or the monsoon starts, the weather changes are drastic. This weather change lets in bacterial infection as the living organisms move in the air. People fall sick with fever, allergies, and suffer from cold. Chyawanprash is a perfect addition to your daily routine to avoid falling sick in season changes.
It enhances the digestive system:
If you have a weak digestive system, then this herbal jam is your help. It will streamline the bowel movement and easy digestion of food. The ingredients like cinnamon and Amla have carminative properties which prevent flatulence. It releases from constipation, which is a prime problem among humans.
It helps to fight respiratory issues:
The herbs present in this ancient ayurvedic formulation helps in the long term. It releases from chest congestion, chronic respiratory ailments. It aids the functioning and balances the respiratory movement.
It makes your skin radiant and healthy:
Applying beauty products never gives you that charm and glow, which is possible having the ayurvedic herbs. Chyawanprash is an herbal product that enhances the youthful look and attractiveness. What you intake reflects on your skin. Eating one teaspoon of this herbal jam will thwart the early signs of aging. The saffron used as an ingredient enhances the complexion as well.
It aids blood purification:
A hectic life with less sleep makes your body toxin. It leads to the onset of several complications and ailments. It hampers blood circulation. Chyawanprash makes your blood purified and removes the excess toxins from the body.
Eating Chyawanprash will boost your sexual prowess and resolve the issues related to it. It improves stamina and strength immensely. This formulation keeps the menstrual cycle in shape.
It sharpens your memory and brain function:
Life and career need balance. Proper functioning of the brain is crucial. Having one teaspoon of herbal jam will strengthen your memory and sharpens your brain functions. It helps you to focus on activities and create a strong impact.
Conclusion :
Daily consumption of this ayurvedic elixir will highly benefit your health. It boosts the immunity level and aids in cholesterol regulation, heart boost, improves nail and hair, urinary infection, and more. The inclusion of ghee in the recipe makes it more perfect for your body to keep a healthy balance in the winter seasons. Various Ayurvedic brands offer Chanwanprash with multiple variations. If you are looking for good quality ayurvedic Chawanprash online, visit Ayurveda Megastore today.