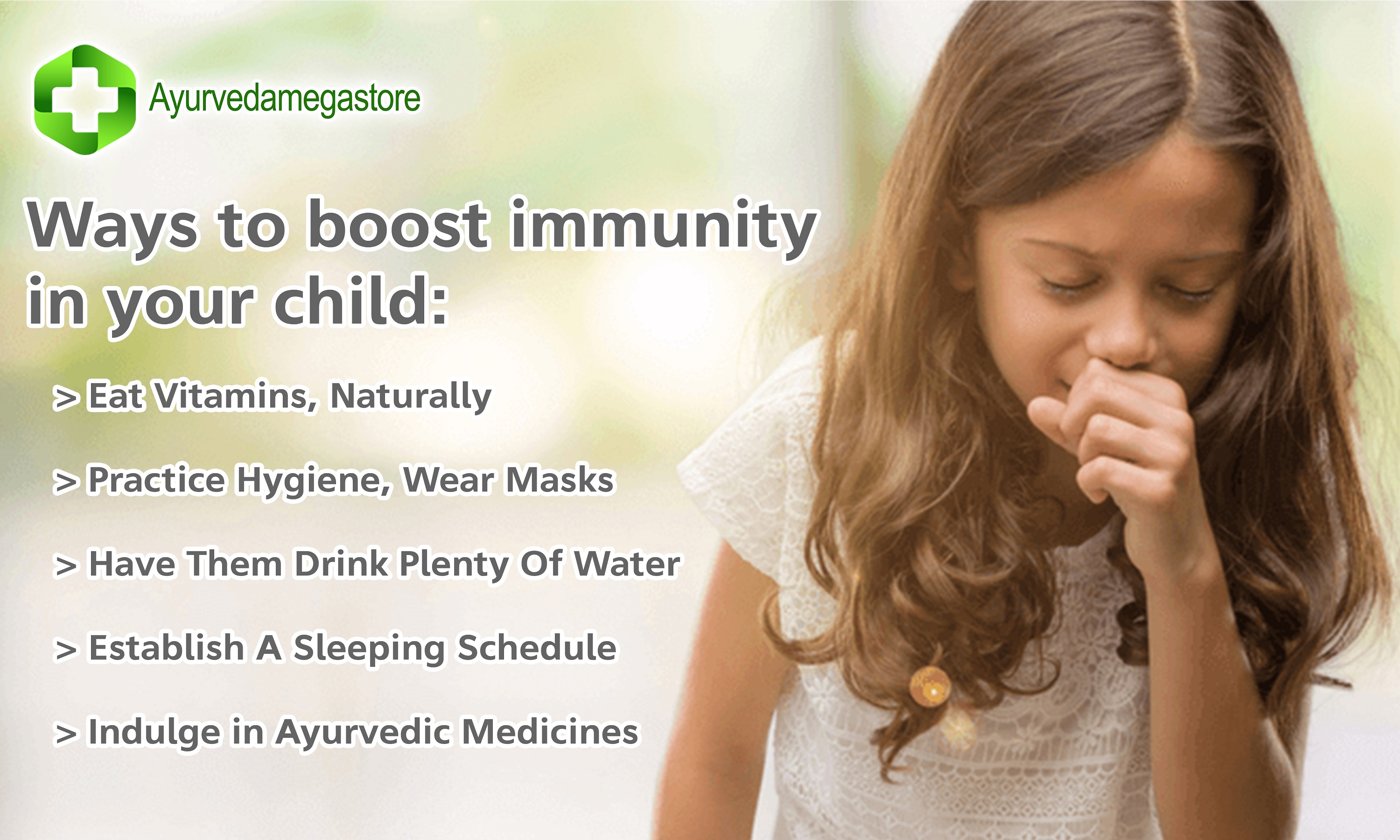 Updated Date: 08 Apr
0 Comments
Top 7 Ways To Boost Immunity In Your Child
Children are the gifts of gods! And, nothing can be more worrying than watching our kids fall prey to any kind of disease due to immunity problems. Most of us working parents are juggling through work and life balance.
We all are awfully struck with the global pandemic and thus making healthcare and self-care the most important aspect, especially the immunity system. We, as an adult, can tackle our health with efficacy. On the other hand, we strive to keep our kids healthy and fit too.
Providing kids with the best health can be a little challenging task! Aiming to build their immunity is difficult on a whole other level. Some use food and supplements whereas some use ayurvedic medicines to boost immunity.
Let us unearth 10 helpful tips to boost immunity in your children.
Eat Vitamins, Naturally
We all know that vitamins and minerals can be best gained by the food one eats. Therefore, children should be fed with the right meals to make sure they get the best carbohydrates, proteins, and fats. Vitamins and minerals are those that boost health by improving the immunity of the child. Emphasis on giving theme nutrient-rich fruits and vegetables like carrots, oranges, strawberries, green beans, etc. They contain carotenoids- the immune-boosting phytonutrients. Thus, they will help in increasing the body's peony in fighting off the unwanted attacks of the pathogens. Try to give children about five servings of fruits and vegetables for a better amount of phytonutrients in the body.
Practice Hygiene, Wear Masks
One of the proven ways to boost immunity is by practicing hygiene. Remember to wash their hands while they come from outside. Let them play freely but make sure they are safe from contaminating bacterias. Good hygiene keeps the infections and germs away from disrupting the children's health. Mere simple habits like washing hands after playing, after using the toilets, before and after meals should be highly stressed upon.
Have Them Drink Plenty Of Water
Our body is made up of 70% water. Therefore, it is necessary to have the children drink enough water within 24 hours of the time. Staying hydrated helps in flushing out the toxins from the body which further also strengthens the immune system. Even though this might seem like a not-so-important point, it is important to replenish the water level of the body.
Establish A Sleeping Schedule
Our bodily functions work well when we get enough rest. Therefore, for the immune system to work efficiently, make a sleeping schedule for the children. It should be followed strictly! Of course, a child who sleeps better and wakes up fresh and energized will be able to fight the infections better than a child who has a bad sleep schedule. You may include a warm bath, a light massage, or even reading to streamlining their sleep time.
Don't Slack On Sports
Do not stop the children from involving in physical activities. An active body is a body potent to fight off germs and infection efficiently. Therefore, take your child outside to play whenever you can. Get some fresh air and vitamin D that is the necessity of the body to battle against the infections. Allow them to get a little dirty as this allows them to adapt better and become fit for survival. However, do not forget to ask them to wash their hands once they are home.
Banish Secondhand Smoke
Keep the children away from smoke. Their lungs are more susceptible to damages than he adults. We all are aware of the ill effects of smoke- the toxins in the smoke inhaled kill the healthy human cells in the body making the individual more prone to diseases. And, as children breathe faster than adults, they inhale more smoke and toxins- making them even more susceptible to the adverse effects related. Therefore, have a smoke-free environment when you are with a child.
Indulge in Ayurvedic Medicines
Visiting the nearest doctor is the first step that someone picks up when a child falls a little ill. And, antibiotics are the first medications provided by healthcare professionals. However, it is best to switch to ayurvedic medicines. They have naturally produced medicines with the least or no side effects. Also, they provide a long-term solution to the consumer. So, if your child is having some trouble, you can book an online consultation with the ayurvedic doctor and get prescribed medicines. The best part is that for all these processes you do not have to worry about visiting the clinic. Instead, you can get all those in one single click.
To sum up
Falling ill, catching a cold, sores, bruises, and cuts are a part of childhood. However, just providing the children with the right food and environment will take you a long way. This helps in ensuring that the child does not have these ailments for too long or too frequently. Remember, love, kisses, cuddles, and attention can kiss away blues- making childhood one of the best experiences for your apple of the eye!
Did we miss something? How do you boost your child's immunity? Let us know in the comments below!