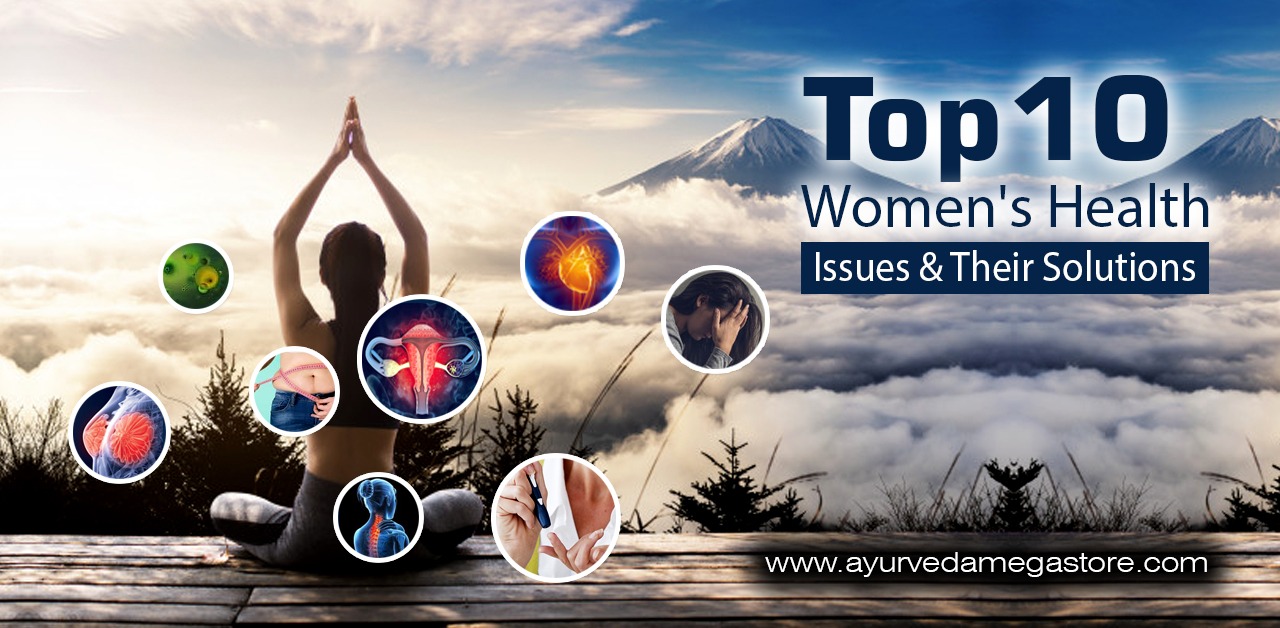 Created Date: 25 Jan
Top 10 Women's Health Issues And Their Solutions
What do you think about women's top health issues? What comes in your mind first? Breast Cancer is a common answer. But, it is not an appropriate answer. Women can have more than 10 health problems and these health problems are preventable conditions. So, you need to take care of yourself and the treatment of the particular health concern.

Heart Disease

Heart disease is one of the common health concerns through which a woman can suffer. According to medical study and research, it is found that heart disease is the major cause of death for both males and females. But, here is good news that this disease is preventable. By doing some things, you can prevent heart diseases.

Ayurveda has an effective and fast treatment of heart diseases. If you want to prevent heart disease, then you can take Alarsin Arjin Tablet, Bafco Cardiol-H Capsule, Bafco Cholestrolcare Tablets, Dhootapapeshwar Hrudroga Chintamani Rasa, Krala Ayurvedic Liposem, Maharishi Cardimap Tablets, etc. You can buy these tablets from Ayurveda Megastore easily.

Diabetes & Obesity

It is found that millions of women are suffering from obesity and diabetes health issues. And the type of diabetes is Type 2 Diabetes. Obesity is the main factor in this type of diabetes. It is important to know that if any woman is suffering from these two diseases, then the risk of heart disease and kidney disease is increasing. Anyone can prevent this issue by doing healthy lifestyle changes.

To prevent Obesity, you can take Bafci B- Slim Tablets, Herbal Hills Garciniahills Capsule, Pravek T Herbal Slimming Tea, Vasu Simlim Capsule, etc. And for the treatment of diabetes, you can take Aimil Amree Plus Capsule, Bafco Diabac Tablet, Pravek Medohar Capsule etc.

Depression

Depression is considered one of the leading diseases nowadays. Depression is the disease that interferes with daily life and as per the medical study, it is noted that it affects women twice as compared to men. There is a need to get proper treatment of depression, but you can help yourself by doing some things like exercise, spend more time with your closed ones, eating a healthy diet, and separating large tasks into smaller ones.

Here is the list of some ayurvedic medications and products that will help you to get relief from stress- Bafco Strex-5M Capsules, Himalaya Stress Relief Massage Oil, Sandu Stressan Tablets, Vasu Ranger Syrup, etc.

Autoimmune Health Issues

When the immune system goes haywire and gets weak, then autoimmune diseases occur. This disease comes in various categories and affects every organ system of the body. Most of the time, it affects women. These type of diseases effects on overall health. So, don't ignore the symptoms of this disease and consult a doctor. By eating light and nutritious food, you can overcome the symptoms of autoimmune diseases. Take immune-balancing nutrients and supplements as well.

Menopause

I think every woman is familiar with Menopause. No one wants to get pain, mood swings, irritation problems, and sleep problems. But, if you are a woman, then you have to deal with such type of problems. Menopause is a fact of life that no one can change, but if you are suffering from severe symptoms os menopause, then you can overcome the symptoms of pain by doing some exercises, practice stress management, drinking plenty of water, keeping a healthy weight, eat a balanced diet, and consult your doctor on a regular basis. If you want ayurvedic treatment, then you can consult an ayurvedic doctor and take ayurvedic medications because ayurvedic medications have no side-effects.

Breast Cancer

Nowadays, breast cancer is considered common cancer which is found in women. In this type of cancer, a tumor forms in the tissues of the breast. You can prevent this disease by doing some things like- exercise for at least 25 minutes daily, eat protein diet, no alcohol, update with your regular breast cancer screenings.

Osteoporosis

Osteoporosis is a condition in which bone density decreases at a higher rate. Both men and women are suffering from this condition. But this is a major issue for women. According to some studies, it is found that half of the women are suffering from this type of disease. If you want to keep your bones stronger, then take adequate calcium, adequate vitamin D, and regular exercise.

Dhootapapeshwar Asthiposhak Tablet, Dhootapapeshwar Lakshadi Guggul, Sami Direct Calci D Max, and other ayurvedic medications can also help you.

Leucorrhea/ White Discharge

Leucorrhea is a type of vaginal discharge which causes due to estrogen imbalance. So, you can treat this disease by consulting a doctor and taking some ayurvedic medications or products like Aayushalaya AB 18 - Female Care Kit, Bacfo Mensocare Tablets, Himalaya V Gel, etc.

Blood pressure

Blood pressure is also one of the leading and common diseases that mostly occurs in women. Regular checkups are the only way through which you can know whether your blood pressure is high or low. You can prevent this disease by eating a healthy diet, doing exercise, maintaining a healthy weight, reducing salt intake, and reducing stress. In ayurvedic medications, you can take Alarsin Arjin Tablet, Dhootapapeshwar Hrudroga Chintamani Rasa, J, And J Dechane Grandi-Co Tablets, Maharishi Cardimap Tablet, Vyas Arjunpushpi Tablet, etc.

Alzheimer's disease

Alzheimer's disease is the mental deterioration that generally occurs in middle or old age. These diseases occur due to the degeneration of the brain. In this disease, the affected person starts forgetting things and get confused about small things. Prevention- Mental stimulation, stress relief management, healthy and nutritious diet, exercise, quality sleep, and a healthy lifestyle.

So, you can see above the most most common and top 10 women's health diseases and their solutions. If you are a woman, then don't avoid any single symptom and take care of yourself. And if you are looking for the best and biggest online ayurvedic store in India, then visit Ayurveda Megastore. At this store, you can get any ayurvedic product at the most reasonable price with the best discounts. So, consult your doctor and take medications according to prescriptions.