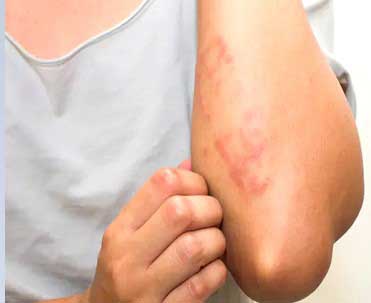 Created Date: 20 Jul
Save yourself from sweat rashes
Summer season is back and so is sweating and problems associated with it. People with excessive sweating condition are more likely to develop skin infections. The sweating may affect the whole of your body, or it may only affect certain areas. Commonly affected areas are armpits, palms of your hands, soles of your feet, face and chest and groin area. Both sides of the body are usually affected equally – for example, both feet and both hands. Fungal infection is the most common disease of summer season.
Fungal skin infections in humans occur on nails, skin, and hair, as it sustains itself on protein keratin which is abundantly found in these areas. Some of the more common fungal infections are Histoplasma, Candida, Aspergillus, Cryptococcus, Pneumocystis & Stachybotrys.
People with the excessive sweating condition known as hyperhidrosis already have to deal with a number of life-inhibiting social issues. According to various studies, people with primary hyperhidrosis also have a higher risk of developing skin infections. Hyperhidrosis is common. It's been estimated to affect between 1 to3 in every 100 people which means there are likely to be hundreds of thousands of people in the world who are affected from it. Fortunately for those with the condition, appropriate treatment by a dermatologist can control these issues.
Hyperhidrosis that does have an identifiable cause is known as secondary hyperhidrosis. This can have many different triggers, including pregnancy or the menopause, anxiety, certain medications, low blood sugar (hypoglycaemia) and an overactive thyroid gland (hyperthyroidism). People having hyperhidrosis are more vulnerable against fungal attacks. Some of the other common reasons of fungal infection are oily skin, hot climate, excess sweating and weakened immune system.
People having all the above symptoms are susceptible of sweat rash. Sweat rash is a common fungal yeast infection that occurs between the folds of your skin as a result of humidity, friction and a lack of ventilation. It usually shows up as a red rash on your skin. Unfortunately, everyday activities such as a sweaty session at the gym or running for the bus can all be a trigger for this skin irritation. It may feel embarrassing and uncomfortable, however if you use the appropriate treatment promptly it can quickly clear up.
Things to avoid during summers:
a- Sweaty socks and shoes - If you wear closed shoes to work or if you work out a lot, you may be exposed to sweaty socks, which creates the perfect environment for athlete's foot. Let your feet breathe – go barefoot or wear opened-toed shoes whenever you can. Always put on clean, dry socks, and take off your sweaty gym socks as soon as you've finished exercising.
b- wearing loose and light clothes
c- avoiding triggers, such as alcohol and spicy foods, that could make your sweating worse
d- wearing black or white clothes to help minimize the signs of sweating
Beside this use of antifungal medicines whenever you feel any symptom of sweat rash is always beneficial. Product Like Eazol Antifungal cream works wonderfully well in such conditions. Eazol Antifungal cream is 100% ayurvedic formula made up from the purest forms of ayurvedic herbs like Sal ( Shorea robusta), Neem (Azadirachta indica), Karanj (Pongamia pinnata), Chakramarda (Cassia tora), Pakar (Ficus infectoria), Yashtimadhu (Glycyrrhiza glabra), Jasad bhasam Malkangini (Celastrus paniculatus). Apply it locally and you get permanent relief from all kind of fungal infections. If the problem is aggravated than do see a dermatologist as soon as possible.
Eazol Antifungal cream and many similar products are available on discounted price on Ayurveda Megastore for online purchase.