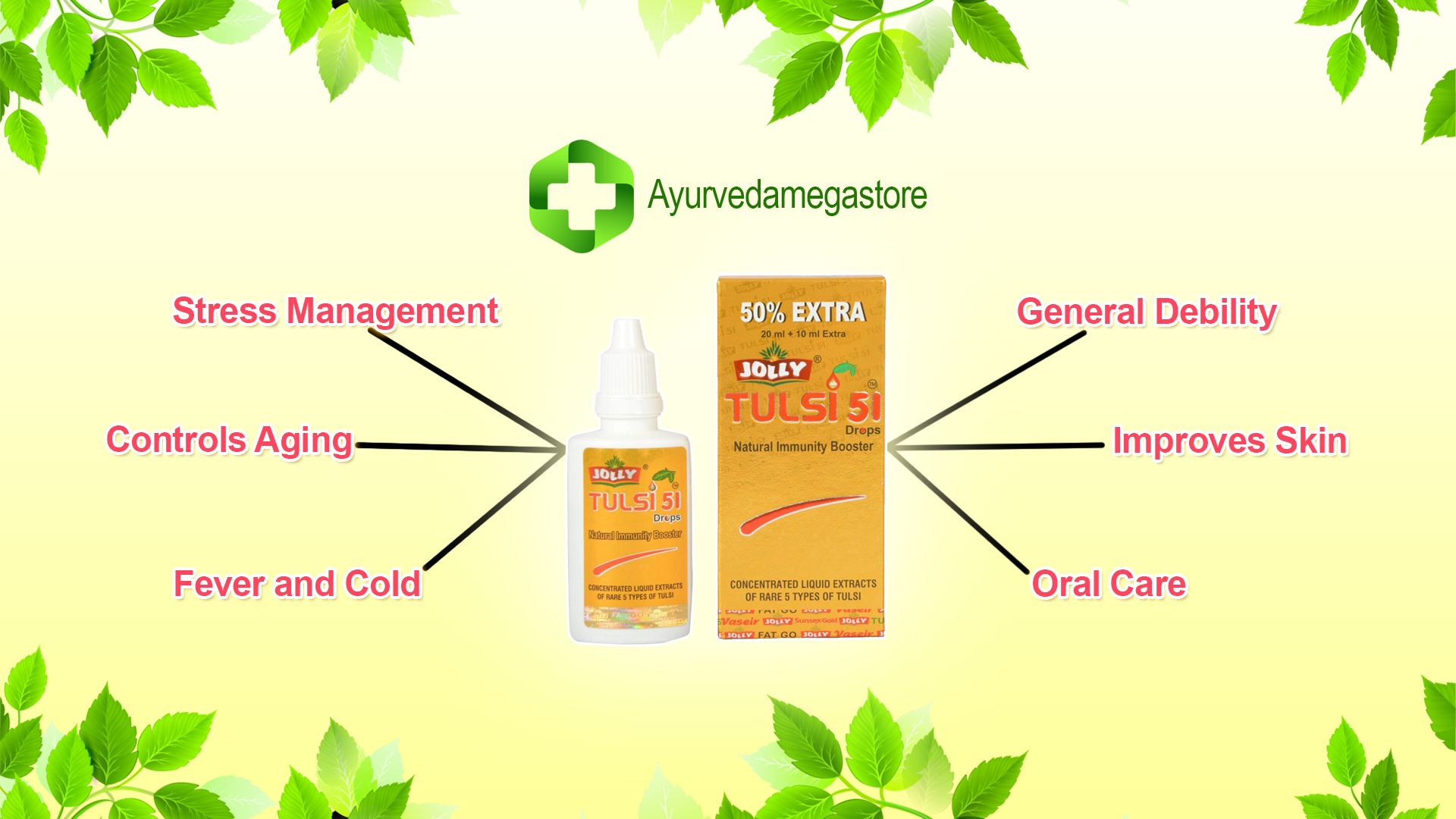 Created Date: 14 Dec
Jolly Tulsi-51 Natural Immunity Booster - The goodness of nature to boost your immunity levels
Jolly Tulsi-51 natural immunity booster is one of the most popular tulsi based immunity boosting product that has led to excellent results for several individuals across the country and world. If you plan to improve your immunity levels when COVID-19 is spreading at a massive rate, Jolly Tulsi-51 will prove to be highly beneficial for overall health.
Jolly Healthcare is the brand that manufactures Jolly Tulsi-51 natural immunity booster. If you decide consume tulsi and receive the most significant benefits of this natural herb, then Jolly Tulsi-51 should be your first choice. One of the unique aspects of this natural immunity booster ayurvedic drops is that it comprises the goodness of five different types of tulsi. This includes Vishnu - Priya, Rama - Tulsi, Kala - Tulsi, Bisva Tulsi, and Basil Sweet - Lemon. These different types of tulsi are present in the form of concentrated liquid extracts. This makes the tulsi based drop useful for the consumers. Also, due to this tulsi drop's complete natural composition, it does not lead to any side effects among the users. Along with the immunity-boosting properties, it also comprises of anti-aging, anti-bacterial, and antiseptic properties.
Benefits of the Jolly Tulsi-51 Natural Immunity Booster:
l Stress management: Tulsi is one of the best natural elements that adapts and responds well to the body's stress levels. In most individuals, stress leads to poor mental health and reduced immunity levels. These tulsi drops will help deal with the stress in the best possible manner, thus preventing these major changes in the body.
l General debility: It consists of impressive anti-oxidant properties. Also, it helps in improving the overall strength of the body.
l Controls aging: Tulsi drops play a key role in helping you to age gracefully. It works well on the cells that are responsible for the aging processes in the body.
l Fever and cold: Most individuals get anxious with the occurrence of fever and cold in the current times. Jolly Tulsi-51 natural immunity booster helps in preventing as well as curing fever and cold.
l Managing respiratory problems: Respiratory problems are quite common in certain types of weather, including winters. The tulsi drops help in the movement of the mucous, thus preventing its deposition. In this way, the person suffering from the same can find much relief.
l Oral care: If you are looking for a natural remedy for your basic dental care and problems, then the Jolly Tulsi-51 natural immunity booster is one of the top ayurvedic solutions. It is not only useful in preventing caries but also helps in curing tooth pain. It also works as an excellent mouth freshener that can be utilized regularly.
l Improves skin texture: Skin is one of the most important parts of the body that requires regular and natural care throughout life. You can consume tulsi drops and apply directly on the skin. If you have skin problems like pimples or itching, then using the tulsi drops will be highly beneficial for the skin.
l Improves hair quality: Hair loss is quite often in the present times due to the rise in the stress levels in our daily lives. This leads to reduced hair growth over time. Tulsi drops, along with coconut oil, works well for the best results.
Dosage: It is recommended that Jolly Tulsi-51 Natural Immunity Booster must be consumed with water or tea. One drop of this ayurvedic solution.
Precautions: Jolly Tulsi-51 natural immunity booster does not have any side effects. Experts recommend consuming the Jolly Tulsi-51 drops in the specified dosages to avoid excessive consumption of this ayurvedic tulsi drop.
Thus, the Jolly Tulsi-51 natural immunity booster is highly beneficial in our daily lives. These ayurvedic tulsi drops help in improving the overall health in the best possible manner. You can get started with this immunity booster solution and eventually improve your overall health.