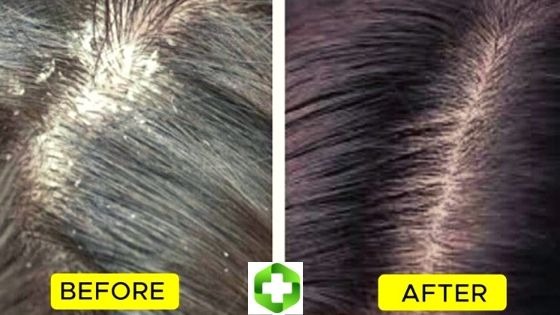 Created Date: 05 Nov
How to get rid of dandruff in winters
Winters naturally bring dryness and itchiness on the scalp. The reason can be insufficient water in your body, inadequate hygiene, or blockage of skin pores on the scalp due to product build-up. These key factors invariably cause dry skin flakes to come out from the scalp. Dandruff is very embarrassing for anyone. It keeps shedding from your hair every time or can be observed directly on your scalp as white build up. Dandruff represents a widespread problem around the world, both male and female experience dandruff. It is the old skin on the scalp, comes off because of dryness or infectious bacteria. Washing frequently and maintaining essential hygiene helps in getting rid of dandruff. In conventional times using inappropriate or chemically strong hair products results in excessive dandruff and even hair loss in severe conditions. There are numerous options available over the counter, or you can visit a doctor for a medicated therapy to treat your dandruff. Dandruff can be treated promptly with home remedies as well by efficiently using household products, which are edible in nature.
In this article, we will discuss in detail the causes and helpful products to treat dandruff:
Causes
Inadequate hair brushing:

If you do not brush your hair on a regular basis, then the chances of building up of old skin in layers, on the scalp increases causing dandruff.

Dry skin:

If you have flaky skin, it tends to become prone to dandruff in winters or hot weather. People with dry skin promptly have small flakes in the form of dandruff.

Yeast:

If you are prone to scurf, then you bear a higher chance of having dandruff. Yeast occupies an inevitable role in increasing bacteria on the scalp, in the form of dandruff. It becomes substantial to visit a physician for a proper checkup of your scalp, to identify the actual cause of dandruff. It can be dry skin or yeast.

Skin allergies or skin diseases:

If you have any skin allergy towards any food or any specific element, then it becomes prominent that dandruff in your hair is caused because of the same element.

Seborrheic dermatitis caused because of irritated and oily skin:

If you are suffering from Seborrheic dermatitis, then your chances of getting dandruff patches on breast bones, back of ears, and eyebrows increasingly becomes evident. The patients who have oily skin are more prone to Seborrheic dermatitis.

Chronic Illness:

If you have experienced high fever recently, then your lustrous hair progressively becomes dry and unhealthy, leading to dandruff. Moreover, illness of neurology may naturally increase the gradual formation of dry skin on the scalp, invariably causing dandruff.

Side - effects of skin or hair products:

Using too many hair products and heating tools on your hair makes them weak and dry. This retains a direct relationship with an increase in dandruff on the scalp.

Insufficient diet:

Lack of essential micro-nutrients in the standard diet can progressively reduce blood circulation on the scalp naturally, making it prone to dryness and dandruff.

Malassezia:

It is perceived as the bacteria, which lives on the the scalp of everybody. Getting in contact with natural hair oil, it promptly makes the scalp irritated sometimes, and develops extra skin. This extra skin sheds off in the form of dandruff.

Stress:

Stress can cause many health-related problems. One such potential problem is dandruff. Stress progressively reduces active circulation in the body, including the scalp. This enhances dryness on the scalp, which ultimately causes dandruff.
The best hair products for treating dandruff are:
Dr. JRK Siddha Dano Anti Dandruff Oil:

This organic oil has dynamic and most effective ingredients. These active ingredients significantly control dandruff by naturally restricting their progressing quantity. It has magnificent ingredients like Wrightia tinctoria, Azadirachta indica, Hibiscus Rosa Sinensis, and Oleum Cocos Nucifera. The mitigating and cancer prevention properties in Dr. JRK Siddha Dano Anti Dandruff Oil exhibit anti-fungal properties and progressively eliminate the chipping of scurf from the scalp.

Dr. JRK Siddha Lumina Herbal Shampoo:

This shampoo has powerful ingredients like Psoralea corylifolia, Hibiscus Rosa Sinensis, Aloe vera, and Acacia sinuate. Within two to three hair washes, it prominently shows great effectiveness by precisely controlling hair loss, dandruff, and Pityriasis Versicolor. It even brings back the shine and damage-free hair.

Vasu Trichup Anti Dandruff Shampoo:

This is a shampoo made for all types of hairs, to promptly remove dandruff. It retains two major components like Tea tree oil and tulsi, for effective treatment. It positively enhances the incredible strength of the hair and moisturizes it, making it lustrous and shiny. It is equally safe for use over artificially colored hair.

Kerala Ayurveda Kesini:

Kesini hair oil is a meticulous blend of Neeli, Japapushpa, Amla, and Castor oil. These ingredients are extremely effective natural herbs, to progressively eliminate dandruff from the hair. It even stimulates the hair follicles by enhancing blood circulation. It substantially improves the distinct textures and quality of hair, as well.
If you are finding some more viable options for your unique hair types, then you can visit our official website ayurvedamegastore.com. You will find all-natural and Ayurveda products on our website.