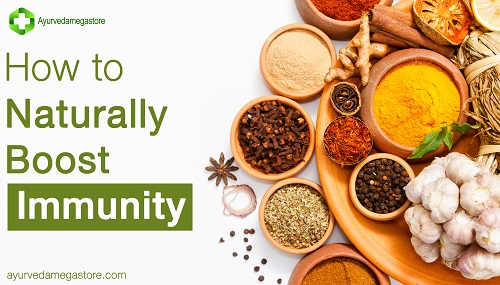 Created Date: 28 May
How to Increase Immunity Through Ayurveda
Immunity is like your body's defence system against the attack of harmful microbes and pathogens which cause diseases.
This concept of immunity led to the development of antibiotics and vaccines in the 20th century. However, the overuse of allopathic medicines has led to the weakening of our immune system against external risks.
Immunity in Ayurveda:
Ayurvedic texts have defined diseases in two contexts which are Nija and Aganthu. Nija diseases include diseases caused within our own bodies and require understanding one's own natural tendencies for preventing them.
Aganthu is caused due to external factors which may include physical injuries, lack of personal hygiene and health/hygiene policies in the society.
The Charaka Samhita written in 2nd Century AD had mentioned an epidemic caused due to improper health facilities and incompetency of local governing bodies in matters of health and hygiene.
Charaka, has mentioned the spread of diseases-causing microbes and the impact of changes made in the environment which include soil, water and air. It also mentions the effect of climate change and human exploitation of nature.
It is also widely regarded that our immunity's preventive functions are a result of our digestive process and balanced doshas are important for developing resilience against diseases. The word Ojas has been used multiple times in Ayurveda and it means the nourishment of our body tissues which explains the relation between digestion and immunity.
Ojas doesn't just mean resistance to disease but also protection against any kind of unwanted changes, physical or mental.
You can buy this Immunity Booster Pack - Best Ayurveda Medicine.
What affects your Immunity negatively:
1. Unbalanced Diet:
An imbalanced diet weakens our immunity and is not supportive to the biological balances of our body according to Ayurveda. A balanced and nutritious diet, on the other hand, strengthens our immunity and makes us better prepared against diseases.
2. Intake of more intoxicating substances:
Intake of excess alcohol also leads to weakened immune systems and may make them weak even against common pathogens.
3. Varying sleep patterns: Not getting constant sleep or following a sleep pattern also affects the body's immune system.
There are also factors like taking high amounts of stress, obesity, dehydrations and drinking less water also affects the body's immune system.
Ways to improve immunity according to Ayurveda:
1. Well-balanced diet which should be based on one's own dosha.
2. Practicing Yoga regularly
3. Having regular detox methods such as fasting or participating in a panchakarma cleanse once a year.
4. Make use of a variety of spices in your diet as they maintain integrity and reduce cell damage.
5. Consumption of herbs like amla and ashwagandha
6. Use of treatments like Navara Kishi.
What should constitute your diet:
You should know that a balanced diet according to your dosha levels will go a long way in improving your immunity. You should have more Vitamin-C rich foods and foods with a lot of antioxidants.
Antioxidant rich foods help in controlling inflammation in your body which are linked with chronic diseases such as heart disease, cancer etc. Foods with fibre content are also helpful in maintaining health of your digestive tract.
Ayurvedic solutions also include intaking immunity strengthening herbs on a daily or regular basis.
Some solutions are:
1. Start drinking herbal tea on a daily basis which consists of tulsi, ginger and pepper.
2. Drink at least 15ml of amla juice every day after waking up.
3. Make sure that your food is prepared with turmeric and pepper everyday.
4. Organise your sleep schedule.
5. Manage your stress levels
6. Exercise regularly.
You can also opt for some supplements in order to maximise your immunity. You can go for herbal supplements like amla, triphala, ginger etc. which provide essential vitamins and promote nourishment.
Some medications are recommended by Ayurvedic practitioners like:
1. Amalaki Rasayana
2. Arogyavardhini vati
3. Ashwagandharishta
4. Brahma rasayana
5. Triphala guggulu
You should always consult with an Ayurvedic practitioner before using any of these medications.
Ayurveda has a thorough and well-described section for Immunity which will help you prepare your body for pathogens through natural methods.