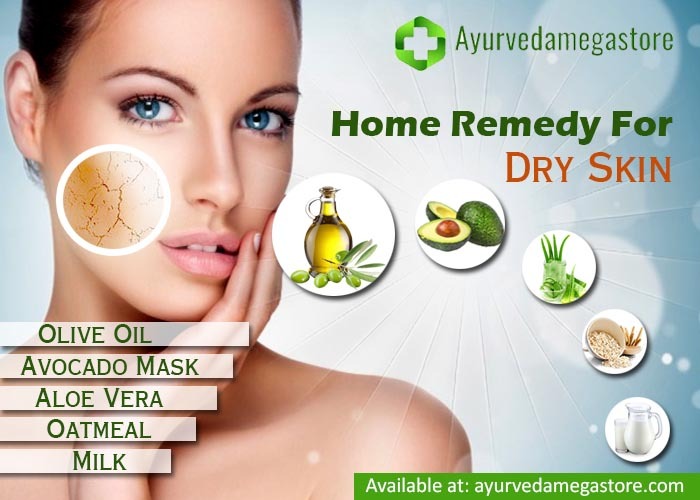 Created Date: 15 Oct
0 Comments
Get rid of Dry Skin with these Home Remedy Products
Most of you probably know that our skin is one of the most sensitive entities of the body. From random environmental changes to inappropriate liquids, it goes through a lot of obstacles. As a result, it becomes dry and rough many times. Individuals utilize Ayurvedic products for dry skin and keep it secured from harmful chemicals and pollution.

Apart from Ayurvedic solutions, there are some natural that can make your dry skin flourishing and moisturized. Here are these remedies, so read them carefully:

Olive Oil Cleanser

One of the natural products that can simply keep your skin moisturized is olive oil. Apply some oil on your skin and rub gently. Put a slightly dry and warm cloth on your skin, and let it cool down. Then wipe your skin to remove excess oil. This procedure will moisturize your skin and keep it clean.

Avocado Mask

Avocado is a perfectly natural product for giving a soothing sensation to your skin. You just need to create a mask using olive oil and honey. Taking both in an appropriate quantity and mixing it with Avocado will give you the desired product. Apply this mixture on your skin and keep it still for 15 to 20 minutes. After that, wash your face to feel your moisturized skin having a soft touch.

Use Aloe Vera

When it comes to curing your skin, you can't afford to miss out Aloe Vera. This natural product is perfect for cleansing and moisturizing your skin. A lot of people use it as face wash products or drink Aloe Vera juice for a better health condition.

Applying Aloe Vera to your skin reduces dryness as well as acne breakouts. Even there are many Ayurvedic products for dry dull skin that have a mixture of Aloe Vera and other herbs. These products are very effective for several skin and hair problems.

Oatmeal Bath

Rehydration of your skin is necessary to prevent it from becoming dull and dry. Oatmeal is a very good product to keep the skin moisturized. A cup of oatmeal along with a warm bath will help to make it moisturized and soft.

Milk Compresses

Milk is a rich source to many health benefits, and skin-softening is one of them. Milk compresses have lactic acid, which helps to remove skin irritations and make it more flourishing. Utilize these compresses for 5 to 10 minutes, and you will experience a natural relief on your skin.

Natural herbs are always a better option to treat your body more effectively. They are chemically prohibited and contain a lot of vitamins and minerals that our skin and body need. With the help of Ayurvedic skin care products, you can make prevent aging of your body as well as skin. Use these remedial solutions appropriately to prevent any loss to your beauty.