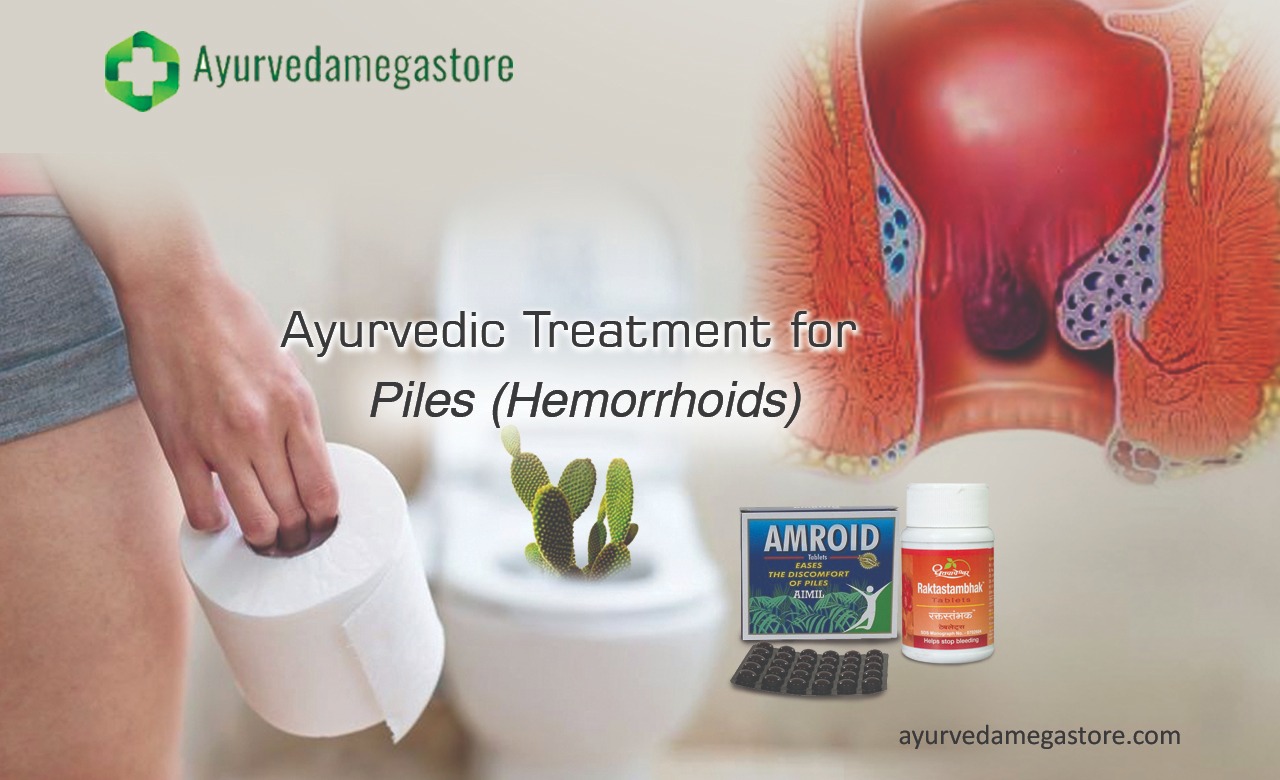 Created Date: 12 Feb
Ayurvedic Treatment for Piles (Hemorrhoids)
Nowadays, Piles (Hemorrhoids) is considered one of the common and leading diseases. People are indeed seeking for a permanent and effective treatment for Piles (Hemorrhoids). Before taking any treatment, it is important to understand about Piles (Hemorrhoids) and ayurvedic treatment properly. Let's discuss What is Ayurvedic treatment?


Ayurveda is an ancient Hindu medicinal practice which is originated in India but spreads all over the world. Ayurveda not only treats the diseases, but also addresses the conditions of body, mind, and spirit. It also balances the symptoms of illness. Ayurvedic treatment is indeed more effective than other treatments that's why people prefer to take ayurvedic treatments.


According to Ayurveda, there are three doshas or you can say body types- pitta, Vata, and Kapha. Each dosha has different significance and signifies elements- fire (pitta), air (Vata), and water (Kapha). A person can experience several physical or emotional conditions based on dosha.

Have you ever heard about Hemorrhoids? If yes, then there is no need to explain more about Hemorrhoids. Hemorrhoids are swollen veins found in and around the anus. You can find it internally or externally. Here is the list of some symptoms-

● painful bowel movements

● bleeding from the anus during or after bowel movements

● irritation around the anus

● pain around the anus

● stiffness in rectum

● intense itching around the anus

● leakage of stool

● lump near your anus

● itchy swelling

Hemorrhoids are caused by a Dysseal imbalance, bad diet, poor digestion, and constipation. Usually, if a person has poor digestion, he/she has piles of problems. This disease is connected with Vata's equilibrium. This is responsible for stools, bowel movements, and separation of urine. Internal Hemorrhoids & External Hemorrhoids are the two types of Hemorrhoids. In internal Hemorrhoids, the person feels less pain and bleeding and external Hemorrhoids are painful. The person may experience blood clots during bowel movements, especially in constipation.


Before taking any treatment, it is important to make sure you have hemorrhoids or not.

What are the Types of hemorrhoids according to dosha?


In Ayurveda, your dosha determines the type of hemorrhoids.

● People who have Vata dosha may experience severe pain, constipation, and black hemorrhoids with a rough, hard texture.

● People who have pitta dosha may experience bleeding from the anus, pain around the anus, and bleeding hemorrhoids that are soft and red. The person can also face another symptom like fever, diarrhea, and a feeling of thirst.

● People who have Kapha may have digestion problems and slippery, light and large in size hemorrhoids.

Many people are looking for ayurvedic remedies for piles so that they can free from these diseases permanently. Ayurvedic remedies or treatment includes lifestyle changes, diet changes, herbal remedies, natural products, and ayurvedic medicines.

First of all, your Ayurvedic doctors will find or observe the particular dosha before giving any treatment suggestions. It is best to speak with your doctor frankly.


The initial goal of Ayurveda is to restore the balance of energy that nature has given to the person. Because after recovery, generally, the body re-starts to function and regulates all functions of the body. For each dosha, there are specified foods that are suitable for every person. If you have hemorrhoids, then you need to avoid spicy and fatty foods, exclude coffee and alcohol.


Different ayurvedic treatments included oils & ointments for direct hemorrhoids, herbs, spices, medications, and laxative or cleansing ointments.


If you are the one, who is suffering from this problem from a long time, then you can take ayurvedic treatment with following options-


Medication, or bhaishajya chikitsa

If a person is suffering from minor hemorrhoids, then it can be treated with ayurvedic medication only. There is no need to take another procedure. But if a person is having severe hemorrhoids, then the person needs to take another treatment procedure in addition to ayurvedic medication. Your ayurvedic practitioner will recommend ayurvedic medication, diet, and lifestyle changes according to your dosha. So, it is crucial to follow your doctor's prescriptions carefully.


Aimil Amroid Tablet


Piles caused by constipation, genetic tendencies, and faulty diet. Aimil Android Tablet is fulfilled with unique benefits of vital herbs which is a beneficial therapy for piles. This ayurvedic tablet provides complete management in 1st and 2nd-degree piles. It is considered an effective therapy for pre and post-operative management. It helps in regulating bowel movements. You can take two tablets thrice a day and as per your doctor's prescription. Buy Aimil Amroid TabletOnline from the biggest ayurvedic online store.

Dhootpapeshwar Raktastambhak Tablet

Dhootpapeshwar Raktastambhak Tablet is one of the natural ayurvedic medicine for bleeding disorders. It is made with effective supernatural herbs that help in Pitta Pachan. Other ingredients help stop blood loss. This tablet is used to treat Anal bleeding due to Piles, Fissure & Fistula, DUB, Menorrhagia, Epistaxis, Haemoptysis, Haematuria, etc. So, buy Dhootpapeshwar Raktastambhak Tabletonline at the best price.

Herbal application, or kshara


Kshara is an alkaline paste which is used to treat hemorrhoids. It is made with natural herbs. You can apply this paste to hemorrhoids by using a slit proctoscope. According to Ayurvedic study and research, this Kshara karma method is one of the best-treating methods.

Surgical intervention, or Sastra chikitsa

kshara sutra is a therapy which is used to treat hemorrhoid. Ayurvedic doctors recommend this therapy when other ayurvedic or natural treatments are not effective. In this treatment, there is a need for specific natural herbs to support postoperative healing. Doctors can aslo suggest you do some changes in your diet, exercise, and other factors. Always consult an experienced healthcare practitioner for effective treatment advice.

So, if you are suffering from piles and seeking for an effective treatment, then consult an ayurvedic practitioner and get more information about piles. If you want to buy ayurvedic medicines for hemorrhoid, then always prefer to visit the largest ayurvedic store, so that you can buy high-quality ayurvedic medications at the best price. Ayurveda Megastore is renowned India's Biggest Online Ayurveda Store where you can get any type of ayurvedic medication for any disease.