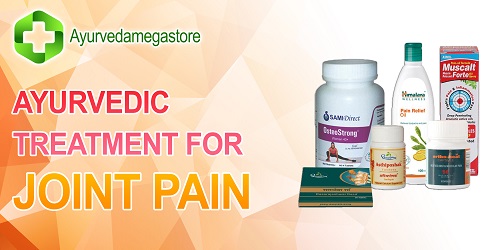 Created Date: 11 Jan
0 Comments
Ayurvedic Medicine Treatment- Is it Effective for Joint Pain
Ayurveda finds its roots in the history of India. Earlier, our ancestors were completely dependent upon the naturally available plants and herbs to get rid of a number of ailments. It was only recently, with the development of technology and advanced sciences, that people started using other chemical-based compounds for treating ailments.
However, gone are those days where people relied upon these synthetic methods to treat diseases. Now, they are returning back to mother nature and making use of it. It's been centuries since the Ayurveda is in existence and even the modern times are giving the hype it deserves.
One of the most common issues that one faces is Joint Pain. Do you too? Well, have you tried Ayurveda Medicine Treatment for Joint Pain yet? If not, then you are really missing out on one of the best and most effective ways to manage or treat joint pain.
Let us learn more about joint pain and how can Ayurveda help in joint pain relief!
Joint Pains and Causes
We all are familiar with Joint Pain- it is the pain experienced while performing a basic movement in the joints of the body like elbow, knees, feet joint, wrist, etc. The causes of joint pains are too many- it varies from individual to individual! It depends upon factors like age, gender, and their daily physical routine or activities. Whether you have chronic pain or you faced an injury due to trauma- the consequences are the same- Pain and Discomfort. Impaired joint function or facing inflammation and degeneration in joints are other causes that end up troubling joints!
Joints that are easily targeted are- Shoulder joint, Elbow joint, Wrist joint, Ankle and Foot joint, Hip joint, and Knee joint. The basic symptoms for one to determine whether he or she is having joint pain or not are- Pain, swelling, stiffness, limited movement range, weakness, tenderness, inability to move a body part, and of course, fever.
Therefore, if you ever face any of the above-mentioned symptoms, then you must reach out to a trusted healthcare professional and indulge yourself in a treatment- preferably Ayurveda Medicine Treatment because it is known to have almost no side effects upon administration. Let us learn how does Ayurveda deals with Joint Pain Relief.
Ayurvedic Medicine Treatment for Joint Pain
The essential principle of Ayurveda is to stop illness by maintaining balance within the body.
Lack of proper diet and exercise, polluted environment, lack of nutrients within the body are several factors that contribute to having joint problems. While this is often a standard problem, there's no medication to assist treat the matter and hinder existence activities.
Although it's frustrating to measure with this magnet-like disease, joint pain, in today's world. There are several ways we can avoid the root of the pain altogether. Adopting this Ayurveda Medicine Treatment for joint pain is the best approach even in modern times.
The category of joint pains not only includes the condition of knee pain or arthritis but also takes account of joint pain within the other parts of the body. However, knee pain is the most typical medical condition of which a majority of individuals complain. It occurs due to degeneration, constant pressure, injury, inflammation, or age factor. Of course, there is a specific ayurvedic treatment for every joint pain that an individual faces.
The Bottom Line
The Ayurveda Medicine Treatment Approach is individualized. Also, the treatments differ from condition to condition and depend upon how well an individual's body responds to the treatment administered. However, it is possible that some remedies and coverings are common.
Ayurveda endeavors to address all aspects of the body, mind, and spirit. It recognizes that every person is exclusive; each response is different from the numerous aspects of life, and each possesses different strengths and weaknesses. Through insight, understanding, and skill, Ayurveda treatment for joint pain presents an unlimited wealth of knowledge on the relationships between causes and their effects, both immediate and subtle, for every unique individual.
Are you ready to adopt Ayurveda Treatment for your Joint Pain Relief?