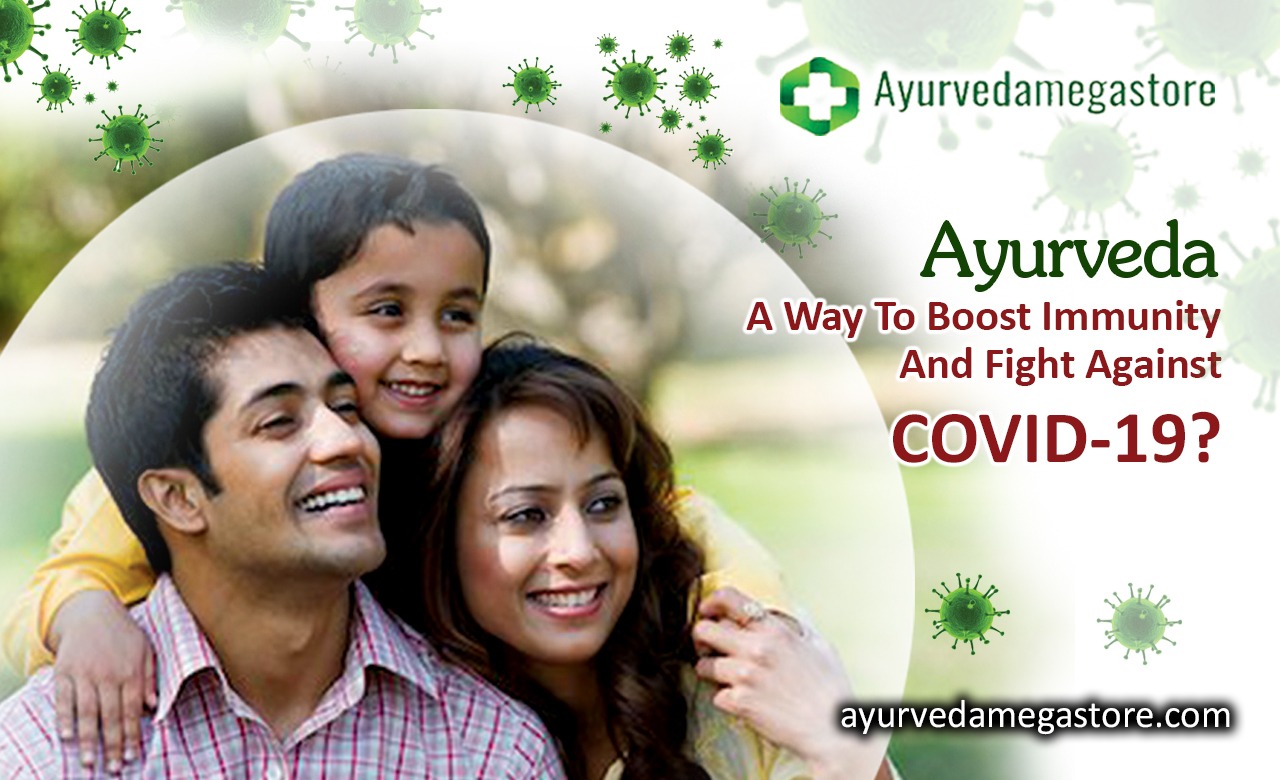 Created Date: 09 Feb
0 Comments
Ayurveda - A Way To Boost Immunity And Fight Against COVID-19?
COVID-19 created a pandemic situation worldwide. In the beginning, it became a reason for fear among people. It happened because of no solution to fight back. After a short time, it cleared that people who have a strong immune system can easily fight against it and keep themselves safe. When it comes to boosting immunity, then ayurvedic medicine appears the best method. It works on the body naturally without getting any support from chemicals or harmful products. Here, you can get complete details about immunity and understand how Ayurveda can help in boosting it.
What Is Immunity?
All individuals do not have proper knowledge of medical terms. These types of people may not know what actually immunity is. Your body's ability to fight against toxins or infection with the help of white blood cells and antibodies is considered immunity. In other words, it helps in keeping your health and body protected against different types of viruses and diseases. In case you have an excellent immune system, you can easily get rid of numerous infectious health issues, like - cold, UTIs, measles, etc. Even, it helps you in staying strong against Coronavirus as well.
What are different types Of Immunity?
The ability to fight against diseases is not similar every time. Mainly, there are three major types of immunity.
Innate Immunity
Innate immunity is the ability of protection that all individuals at the time of birth. It is based on multiple internal and external factors, such as - mucous membranes, skins, etc.
Passive Immunity
Passive immunity is the immunity that an individual gains from other sources, like - an infant gets antibodies from the mother via the mother's placenta, breast milk of the mother, etc.
Adaptive Immunity
It defines the immunity level that individuals increase with their routine life actions by interacting with diseases and vaccines.
Everyone faces these three immunity types during their lives. It also gets affected by the individual's age. In case you want to consume ayurvedic products for boosting immunity, you can consider an ayurveda online store and grab the best deal.
Does Age plays a important role in Immunity and what are the Different Stages?
Immunity of an individual change with time and age, therefore everyone needs to focus on many things, such as - age, health vulnerability, etc.
Immunity In Children
If you focus on the immunity of a newborn, it is fragile. In these conditions, the immune system gets strengthened by at least 2-3 months. During this particular period, a baby gets antibodies from his or her mother. These antibodies are the primary source of protection. With the baby's growth, the immunity system starts building and protecting the body. It happens when your baby interacts with other environmental factors by playing outdoor, having a healthy diet, washing hands, proper sleeping, etc.
Immunity In Adults
With the growing age and during the period of childhood and adolescence, the immunity starts getting weakening. Here, everyone has to focus on health and the immune system on their own. All individuals have to build a strong immune system by adopting healthy habits and a good lifestyle. There is nothing specific when all these things start to happen. In case you do not pay proper attention, then you may face lots of health issues frequently.
Immunity In Elderly
For the aged individuals, it becomes challenging to maintain immunity. In these conditions, the body is too vulnerable to the diseases, and due to it, the health issues (like - inflammations, diseases, and infections) start affecting the body a lot. If you focus on people of age over 65, you can find that the vaccines are also insufficient. To deal with these conditions correctly, you have to get proper nutrition and healthy habits to maintain a strong immune system and protect against health problems.
In case you want to boost your immune system quickly to defeat COVID-19 quickly, you can buy ayurvedic products online and provide proper nutrition to the body.
What is Harmful For Immune System?
Some people are always looking for the best sources by which they can easily keep their immune system strengthened. It can be possible by avoiding some specific bad habits only. In case you are following the bad habits regularly, it will lead to a negative effect on your immune system instead of making it strong.
Excessive Alcohol Intake
All we are introduced to the adverse effects of consuming alcohol. But for some individuals, alcohol is a big part of their life, and they love to consume it daily. Regular intake hits the immune system directly and starts weakening it quickly.
Imbalanced Diet
Having healthy food is a good habit. But, some people do not follow a proper eating schedule. It is the biggest reason they start affecting health with these bad habits. It may affect the nutrition balance in the body and leads to a harmful impact on immunity. With the consumption of proper ayurvedic medicine, you can get your health back on track.
Irregular Sleep
As workout and exercise are essential for good health, you cannot ignore the importance of proper sleep. It would be best if you did not disturb your sleeping schedule.
Obesity
Fatty and overweight conditions of the body are also degrading the health and affect immunity. It creates an imbalance in the metabolism rate.
Dehydration
With good drinking habits, you can keep the body hydrated every time. Some people do not drink water as per the expert's guidelines. These people face dehydration that impacts the immune system and creates issues.
These are some significant factors; you should avoid numerous other things, like - chronic medications, high stress, smoking, etc. In any case, you have to consume medicine; you should consider Ayurveda online store and by ayurvedic medicines only. Mainly these medicines are manufacture with natural and 100% organic ingredients.
Which 5 Ayurvedic Herbs Help To Boost Immunity?
Turmeric
Turmeric appears as the most significant and most useful ayurvedic herb and anti-biotic. It is used in India for multiple purposes, such as spice, herb, medicine, etc. Curcumin is the most crucial compound of turmeric. It has antioxidant and anti-inflammatory properties. The consumption of turmeric is also useful in working on brain function and reducing heart diseases.
Neem
Neem is a magical herb that works on the body and health in several ways, such as - blood cleansing, removing toxins, fighting fungus, bacteria, and viruses. It also has some anticancer properties that can make lots of things better. Multiple other health issues can be treated with Neem, like - skin issues, cardiovascular diseases, gum problems, liver issues, diabetes, and treating skin ulcers.
Amla
All we know about the Chawananprash. Amla is the main ingredient of it. Amla helps in improving the digestion system, increasing immunity, detoxifying organ system, and much more.
Tulsi
The consumption of Tulsi is highly useful in boosting immunity quickly. In India, the plan of tulsi is widespread. There are multiple variants of tulsi available, such as - vana tulsi, rama tulsi, and krishna tulsi. It helps in eliminating treating lung diseases, asthma, congestion, bronchitis, flu, etc.
Ashwagandha
When it comes to the Ayurveda, then ashwagandha appears as the top-most ingredient. It helps in reducing blood sugar levels, symptoms of depression, cortisol level, and inflammation. It is also useful in increasing muscle mass & strength and boost mental health.
At Last
These are some primary ayurvedic ingredients. There are numerous products available to boost your immunity levels quickly. You can easily buy ayurvedic products online.